The following story comes from my new book, You're Going to Survive. It's available in paperback and Kindle format. And here's a free audiobook with a few selected stories. Enjoy!
Teaching is one of the greatest joys of my life. I've taught writing retreats and workshops in eighteen cities around the world, in all kinds of venues—inside converted barns and farmhouses, yoga studios, publishing companies, people's living rooms and backyards, and one time, on a cruise ship.
Typically, these workshops fill up pretty quickly. Some go from "empty" to "sold out" in just a few days—or even just a few hours. Typically. But not always.
One time, I decided to put together a workshop in Los Angeles. It was going to be a summer workshop. A beautiful venue near the ocean. Catered meals. Total perfection. I'd been on a real "winning streak" lately. All of my workshops were completely sold out—or very close. I figured this new workshop would be no exception.
I put together the webpage. I wrote an announcement for my blog and newsletter mailing list. I reached out to some friends in LA to ask if they would spread the word. The official announcement went out, and…
Almost no one signed up.
A week went by. Three people signed up. Another week went by. Three more people signed up. Another week went by. Nothing.
The workshop was approaching quickly. I had a total of six registrations, and I'd been hoping for twenty or twenty-five. Maybe thirty. It felt really embarrassing.
I agonized over what to do next. Should I cancel or reschedule the workshop due to low sales? Should I do a more assertive "push" with my marketing to try to fill those remaining spaces? I felt rejected and confused. Why weren't people interested in coming? Did I do something wrong? Did I choose the wrong dates, the wrong venue, the wrong topic? I'd never experienced this type of non-interest before.
I printed out the list of six registered guests. I looked at the six names over and over again. These six people had paid hard-earned money to sign up. They had cleared their calendars for the workshop dates. Some were traveling from San Diego and San Francisco to be there. Most likely, many of those people had already booked hotel rooms in Los Angeles.
All six people had said, through the action of registering for the event, "Hey Alex, I will rearrange my life to be there. I will show up for you."
Canceling the workshop, at this point, would be completely disrespectful.
They'd promised to show up for me, and I needed to show up for them too—regardless of how full (or not full) this workshop was going to be. This wasn't about money. This was about integrity. So, I made a gut decision. I decided to be completely honest. I emailed the six guests and I said:
Hey everyone! Here's the situation:
Ticket sales are unexpectedly low. This workshop is still pretty empty.
So, please, if you wish, bring along a friend, a partner, your son or daughter, your mom or dad. Bring two friends if you want. Totally free of charge.
It's my pleasure to give extra 'complimentary' tickets to all of you.
Let's fill this workshop with people we love—and make it a fabulous party that we'll all remember and enjoy.
All six people were ecstatic and immediately invited all kinds of fascinating people.
"That's so generous!" they exclaimed. "This is amazing!"
Interestingly, the very next day, several people purchased tickets on my website, too. (Unrelated—or not? Payback for good karma? I don't know. But that's what happened.)
When the workshop rolled around, it was a completely full house. About half of the people there were paying guests, and the other half had received free tickets. Every single person was thrilled to be there. And, because of the unique way that this particular workshop came together, the crowd was unusually eclectic.
We had a champion swing dancer in the room. He gave everyone a dance lesson during our lunch break.
We had a male nurse who was a pregnancy and birthing expert in the room, too, and his story was utterly fascinating.
We had best friends, moms and teenage kids, artists, vocalists, illustrators, professional writers, and people who had never written more than emails before. We had entrepreneurs, corporate leaders, full-time parents, and people in between careers.
When the workshop was over, nobody wanted to leave. People stayed, we broke out a few bottles of wine, talked, swapped emails and phone numbers, and did Tarot card readings around the table for hours and hours.
It was the most fun, meaningful, and memorable workshop I've ever experienced—truly, a peak moment for my entire career.
And to think…
I almost canceled the whole thing because I felt hurt and embarrassed about the fact that ticket sales were lower than I'd hoped. I'm so glad I came to my senses.
I often think back to that experience whenever I'm feeling disappointed because something isn't panning out the way I predicted or wanted.
The question I ask myself is:
"How can I make this feel amazing?"
If ticket sales are slow and I feel sad about that, how can I make this feel amazing?
If everyone flakes out at the last minute and only two people show up for my birthday party, how can I make this feel amazing?
If my last publisher says "no thanks" to my new book project (which happened to me—twice), what's the next move? How can I bring my book into the world in a different manner? How can I make this feel amazing?
When we're willing to be imaginative and flexible, there's always some way to turn a sour, disappointing experience into a better experience. Maybe even an amazing experience. Maybe even something better, sweeter, and more emotionally rewarding than whatever you'd originally planned on.
---
Kris had it all — a wonderful husband, a marriage filled with laughter and joy, beautiful children, optimism and excitement for the future.
One day, her husband Richard boarded a plane. When the plane landed he was dead. A pulmonary embolism claimed his life. He was 45 years old.
In the wake of this tragedy, Kris dove into boxes of letters that she and her husband had exchanged. Decades of love letters. One letter stood out. It was a letter that Richard had written in honor of their 18th anniversary — a letter where he wrote about these questions:
"If you had one hour to live and could make just one phone call, who would you call? What would you say? Why are you waiting?"
These are the questions that cut down to the core of what really matters in life. Down to the marrow. Down to the bone.
Who do you need to call today? Who do you need to spend time with, touch, and hold? What is the letter you need to write? And what will you say?
Please say it now. Because today is a privilege. Because tomorrow is never guaranteed. Because love is the only thing that matters. Because everything else is just chatter and clutter and noise.
Today is my 4th anniversary with Brandon.
There's a lot I want to say.
I will say it today.
---
This is dedicated to Kris, who has taught me so much about what it means to be fully awake and alive, and to my dear friend Ellen who lost her brother in a terrorist attack, and to Christina who lost her husband to cancer, and to my mom who lost her dad much too soon, and to everyone, everywhere, who has felt the pain of loss and the fragility of life. 
---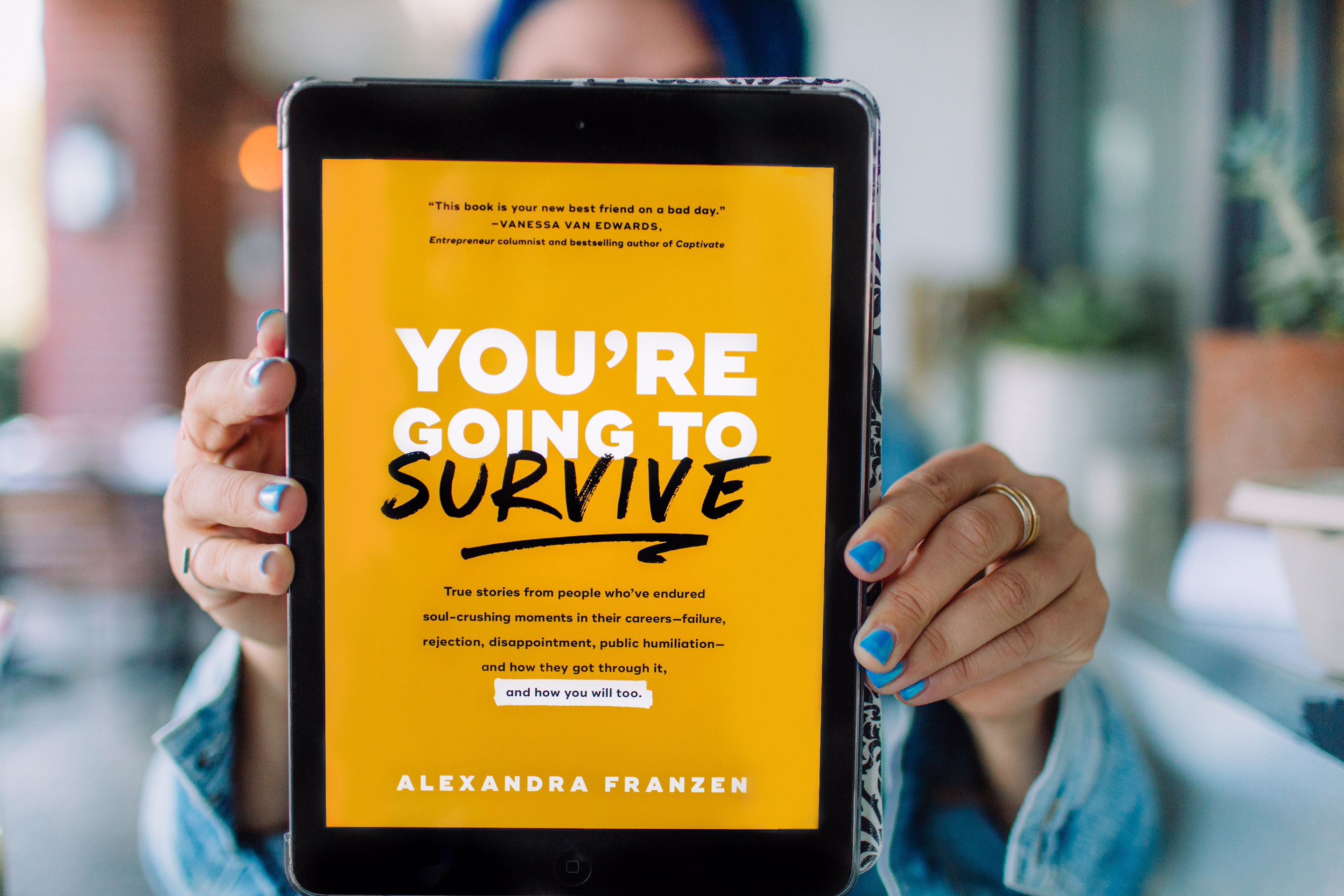 Hi friends!
I have a new book coming out soon. It's called You're Going to Survive.
It's a book about how to deal with stressful, soul-crushing situations in your career. Unhappy customers. Projects that flop. Embarrassing mistakes. Criticism. Rejection. Public humiliation. Pretty much every oh-my-god-that-is-so-awful situation you can imagine. How to get through it, grow through it, and emerge stronger.
In this book, I share several stories from my own life. I also interviewed lots of colleagues and I asked, "Can you tell me about one of the worst moments of your career? What happened? How did you survive it? What did you learn in the process?"
Creating this book reminded me that human beings are incredibly resilient, that setbacks can lead to breakthroughs, that rejection is often a blessing in disguise, and that we're all so much stronger than we think.
You're Going to Survive. will be at your neighborhood bookstore in the not-too-distant future. Several people in my community have asked, "How can I support this book? How can I be part of this project?" I'm really grateful you asked. Thank you. You are amazing.
Here's what you can do:
— You can buy the book. (Of course. :)
— You can tell your friends about this book.
— You can reach out to someone who's struggling right now. Give that person a pep talk and a hug. Remind them, "You're going to make it through this."
— You can say those words to yourself, too.
— You can mention You're Going to Survive. on your blog, in your newsletter, wherever you like to hang out, and encourage folks to check it out.
— Here are some nice book photos that you're welcome to download and share anywhere you want: Photo 1, Photo 2, Photo 3, Photo 4. Or grab any photos from my website that you like.
— Here are some links you can share, too:
You're Going to Survive – Kindle: http://bit.ly/survive-kindle
You're Going to Survive – Paperback: http://bit.ly/survive-paperback
You're Going to Survive – Spotify Music Playlist: http://bit.ly/survive-playlist
You're Going to Survive – Free Mini Audiobook: http://bit.ly/survive-free-audiobook
— You can write your own "Survival Story" and share it over dinner with your family, on your podcast, or wherever you want. Tell a story about your biggest mistake. Tell a story about a project that didn't work out. Tell a story about not getting the promotion you wanted, and how much it hurt, and what you did to feel better. People will be so moved by your story. You will help them to remember, "Everyone goes through tough stuff. We're never struggling alone."
— If you're a journalist, blogger, TV, radio, or podcast producer, anyone who works in the media, you can interview me. I'd love to share stories and tips from the book — and light up your audience with optimism and hope. Email me at hello@alexandrafranzen.com and let's set something up.
For the media: Here's a page with more info about the book, and potential interview topics, and here's my audio / video highlight reel. In the past, I've been mentioned in places like Inc, BuzzFeed, Brit+Co, The Atlantic, and You're The Boss! The NY Times Small Business Blog. I've appeared on shows like American Public Media's Marketplace, Real Talk Radio, The Lively Show, Entrepreneur on Fire, and lots of AM / FM morning talk shows. I always come prepared and ready to rock!
— If you work at a bookstore, you can order the book and sell it at your shop. Please contact Michelle at Mango Publishing — michelle@mango.bz — to do that.
— You can make a donation to Lifeline, the Crisis Text Line, or another organization that provides support for people who are going through a really difficult time.
— You can look your colleague, yoga teacher, barista, or hairstylist square in the eyes and tell them, "Hey. You are really great at what you do. I appreciate you."
— You can do all, some, or none of the things I just mentioned. No matter what, you are wonderful. Thanks for reading this note — and thanks for your kindness and support!
---
Is it just me, or does it feel like the Internet has become a very cruel, vicious place? 
Practically every day, it seems like there's a new celebrity, artist, blogger, business owner, public figure (or non-public figure) who's being flame-broiled, shamed, and humiliated by "people on the Internet." 
The name-calling, the attacks, the snarky blog comments that are intended to be "funny" (but really aren't). It's relentless.
It's like we've got collective amnesia. We've forgotten that words matter, that words can devastate people's businesses and lives, and that our actions — both online and offline — can have disastrous, painful consequences for other people.
I suspect we're all guilty of this behavior — at least partially. Myself included.
I am not a blameless angel. In the past, I've salivated over Hollywood gossip websites — the ones that pick apart celebrities, their biggest mistakes, and their personal tragedies. I've published careless blog posts that I've since deleted. I've written unnecessarily brusque emails to Customer Service reps who are just trying to do their job. I know how easy it is to vent my annoyance into a blank Internet form and click "Send," without even a moment's thought about how my words might impact the recipient's day.
I recognize that this behavior is not acceptable. It's not the type of world I want to build. It's not how I want to treat people — or be treated. I want to do better and be better. I'm guessing you feel the same way. 
That's why I wrote an Internet Pledge.
It's a promise, a code of conduct, a list of common sense principles that I pledge to remember and uphold.
If this Internet Pledge resonates with you — if you're reading along and nodding, "Yes, I agree" — then you can print it out, sign it, share it with friends, whatever you want to do. 
Imagine if one million people took this pledge? One billion? Or more? It's a fanciful idea but then again, stranger things have happened in this world.
The first pledge can come from you.
---
THE INTERNET PLEDGE
1. Both offline and online, I will treat people as if they're my daughter, son, sister, brother, parent, or friend.
Because everybody is somebody's daughter, son, sister, brother, parent, or friend. 
2. To the best of my ability, I will try to add to the amount of love in the world — not subtract from it.
This means communicating in a reasonable, respectful manner. This means treating human beings like they're human beings, not canned dog food. This means asking, "What would Michelle Obama say in this situation? What would Gandhi say? What would Martin Luther King Jr. say? What would Mister Rogers say?" and then proceeding accordingly. 
3. I will not post snarky, cruel blog comments.
If I disagree with something that's been written, I can write my own blog post to voice my perspective.
4. I will not post snarky, cruel messages criticizing people for their weight, body type, age, or anything related to their appearance — including the clothes they choose to wear.
Every human being has the right to express themselves however they want, whether that means wearing a bikini, a pantsuit, or a cocktail dress. 
5. I will not post snarky, cruel reviews on Yelp, Amazon, or anywhere else.
If I'm not happy with a product that I've purchased, I can reach out to the manager or business owner to express my concerns. I can give that person an opportunity to make things right — which they will probably be more than happy to do.
6. I will not treat online forms (including Customer Support forms) as if they're a free punching bag where I can unleash all of my pent-up frustration. 
Eventually, whatever words I type into this form will reach an actual, living, breathing human being. Not a robot. A person. My words will impact this person's day. So I will try to communicate in a reasonable, respectful manner.
7. I will not send numerous emails, one after another, saying, "Hey, did you get my last email?" (Or emails marked "URGENT" when really, they're not.)
I understand that many people are inundated with hundreds of emails every week. Many people are dealing with intense difficulties at home — upheaval, divorce, illness, caring for aging parents, and a thousand other responsibilities. Sometimes, responding quickly just isn't doable. I will be patient, just as I'd hope that others would be patient with me.
8. I will support the artists that I love. 
If there's a blog, podcast, public radio program, video series, book, or any other creative project that has deeply touched my life, I will support that artist to whatever extent I can. A fan letter. An appreciative review. A donation. A purchase. Whatever I can do to say, "You've made a difference for me. Thank you." 
9. I will not be careless with my words.
Words matter. Words can break hearts, start wars, or spark a bonfire of shame. Words can also help and heal. I will try to be a helper, not a hurter.
10. I HEREBY PLEDGE…
I will do my part to create a safer, kinder, more compassionate Internet — and offline world, too. It begins with the next email I write, the next comment I post, the next choice I make. I will never be a perfect human being, but every day, I will try to be better. 
SIGNED:
________________________
DATE: 
________________________
---
A few years ago, I sat down and did some math.
I tallied up how many minutes I was spending on Twitter each day.
Then I multiplied that number by 75 years, because I'm hoping I'll live that long.
Here's what I discovered: if I continued using Twitter in the same way, by the end of my life, I would spend 1.8 million minutes of my life on Twitter. That's 1,250 days. Or, about 3.4 years.
I kept staring at that number — 3.4 years — and I felt sick to my stomach. It didn't seem possible. But math doesn't lie. This was the future I was building through my daily choices.
After that little math equation, I decided to make some changes. I wasn't sure if I wanted to "quit" social media all together, so I started with a short break just to see how things went.
During that break, I also began to examine my entire relationship with technology. My relationship with my phone. With my laptop. With email. With online metrics, like measuring how many people visit my website, and whatnot. I tried to explore each area with curiosity. "Why is this part of my day? Is this crucial? Do I really need that?"
I changed some patterns. I deleted numerous apps. I began using technology in a more intentional way — "selecting" rather than "sleepwalking." To this day, I'm still figuring out how technology fits into my life — what feels healthy, what feels meaningful, and what doesn't. It's a relationship that continues to evolve.
Here are my current policies and preferences:
– I don't keep my phone in my bedroom anymore.
– I switched to this alarm clock instead of using my phone to wake up.
– I keep my phone on silent (on the other side of the apartment, face down) all day long, almost every day, unless I'm expecting a call from a friend or client.
– I deleted all my social media profiles. Facebook, Instagram, Twitter, bye. It feels beautiful. I have more space in my brain. Yes, I still have friends. And no, my business has not suffered.
– I have a website where I share stories and articles, and I have an email newsletter. I focus my energy on these two communication channels rather than social media.
– I love email (I think it's magical) but I don't reply to emails instantly. Sometimes I reply within 30 seconds. Other times, it might take me 30 days. It depends on the request. I state this on the Contact page of my website to set realistic expectations.
– I delete all of my text messages at the end of each day — except for texts from my partner, Brandon. (I like to re-read B's texts, especially if I'm traveling and we're apart.)
– I have a few websites / apps that I love and use regularly, like Spotify, Postmates, Wave, Hulu, and ClassPass.
– I have a few podcasts that I love and download regularly, like 2 Dope Queens, Invisibilia, and Terrible, Thanks for Asking.
– I try to invest in digital stuff thoughtfully. Do I really need a new Macbook Air or the latest smartphone model, just 'cause it's available? Not really. Do I want a pair of Bose headphones with incredible sound quality that I'll use for 6-8 hours every day? Hell yes.
– As much as I love the efficiency and portability of an iPad, I still love reading actual, physical, tangible books. I always will.
---
Nobody has the right to tell you how you should — or shouldn't — use technology. It's entirely up to you. We all have different preferences, different goals, and different needs.
Deep down, though, we all crave meaningful human connections. We all crave serenity, peace, and space to breathe and think. We all crave less clutter, less noise, and more beauty. Technology can help to deliver these things. Or technology can hinder these things. It just depends on how we choose to use it.
Almost everything in life is optional, not mandatory. This includes email, social media, smartphones, Netflix, Amazon, all the other facets of modern life. It's important to question everything. "Is this necessary? Is this meaningful? Do I truly need this in my life? What would happen if I made a change? If I took a short break? A long break? How would that feel?"
Rather than sleepwalking through our lives, let's stay awake and curious, and keep asking these questions.
---