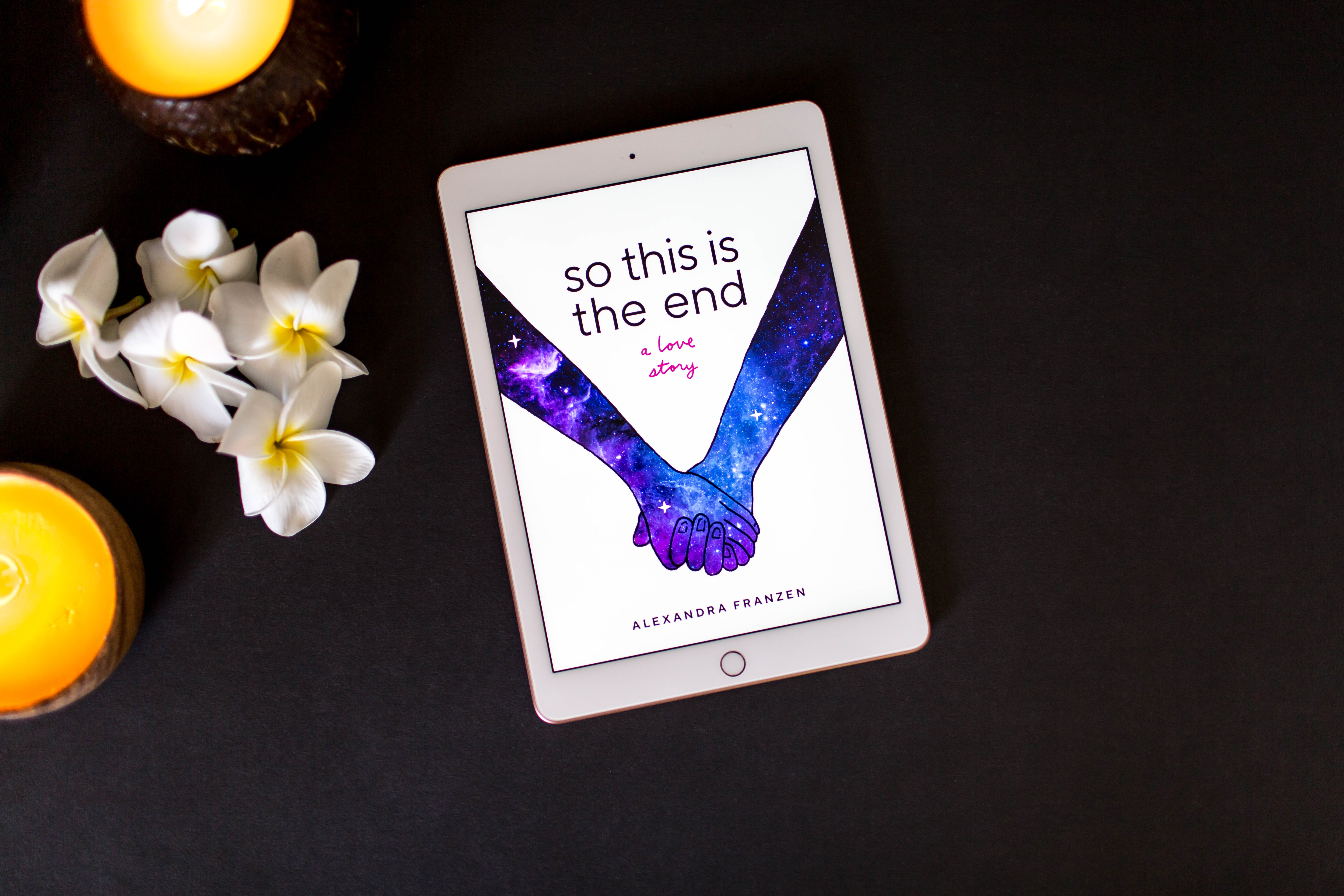 To celebrate the release of my new book—So This Is the End: A Love Story—I have a very cool assignment for you.
This assignment is a quick one. Just a couple minutes. You don't need any special skills to do it. And if you complete this assignment within the next week (by October 22, 2018) you'll be eligible to win some pretty wonderful prizes—including a trip to Hawaii. For real.
Around 13,000 people receive my email newsletter and about 12,000 people visit my website each week. About 7,000 of those people will probably read this assignment and consider doing it. About 50 to 100 people will actually do it, most likely, based on what I've seen in the past. So, your odds of winning a prize are pretty darn good. Why not go for it?
---
THE ASSIGNMENT
Spend a few minutes thinking about this question…
"If you had just 24 hours to live, what would you do with your time?"
And then…
1. Make a list. Write down some things you'd want to do. It can be a simple bullet-point list with three items, or an elaborate list with a hundred things and detailed explanations and illustrations, or anything you want. Just make a list of what you'd want to do if it was your final day on earth.
2. Post your list somewhere in the world—online, offline, or both. For instance, post a photo of your handwritten list on Instagram. Post a screenshot on Facebook. Post your list on your blog. Put your list into an email newsletter. Pin your list to a bulletin board inside your local coffee shop. Paint your list as a mural on the side of your house. Just post your list somewhere in the world where other people can see it. Anywhere you want.
3. Wherever you decide to post your list, please include this hashtag: #MyFinal24
4. Wherever you post your list, please mention my new book, which is called So This Is the End: A Love Story.
5. Wherever you post your list, please include a link so that people can order the book if they want. Here's a short-link you can use: http://bit.ly/so-this-is-the-end
6. Optional. If you want a photo of my book that you can post—to accompany your list—here are several options: one, two, three, four, five.
7. Last but not least, please send your list to me, too. Take a photo, a screenshot, or send a link to: hello@alexandrafranzen.com
---
EXAMPLE
For instance, you could go online and post something like this:
I recently learned about a new book called So This Is the End: A Love Story by Alexandra Franzen. The central question of the book is: "If you had just 24 hours to live, what would you do with your time?" I love this question! I made a list of some of the things I would definitely do with #MyFinal24 hours.
Here's my list:
[Photo of your list goes here]
PS. What would be on your list?
PPS. If you're looking for a new book to read, you can order So This Is the End here: http://bit.ly/so-this-is-the-end 
---
PRIZES
If you complete this assignment in the next seven days—by October 22, 2018—you'll be eligible to win some cool prizes, including chocolate, coffee beans, candles, crystals, books, and more.
If at least 100 people complete this assignment, then the prizes get even bigger and better!
If 100 people complete this assignment, then 1 lucky person will win a free ticket to one of my 2019 retreats in Hawaii (attending normally costs $4,800) plus $500 to help cover the cost of your flight. Depending on where you're flying from, that might be enough to cover your entire round-trip ticket.
Winners will be announced in November.
---
TO SUM IT UP
To sum this up…
* Think about what you'd want to do if it was your last day on earth.
* Make a list of what you'd do.
* Post your list somewhere. Online, offline, or both.
* Include some links and stuff to help support my new book. (Thank you!)
* Enjoy the experience.
* Spark conversation amongst your family and friends.
* This will be fascinating, emotional, and inspiring.
* And… on top of all that, you might win a prize, too.
---
GO!
Have fun with this assignment.
I can't wait to see your beautiful list…
-Alex
PPS. You're awesome. Thanks for doing weird challenges and completing tiny projects and making art with me. The end.
---
In an interview on The Late Show, Constance Wu tells the story of how she got the leading role in a groundbreaking, smash-hit rom-com movie. The biggest role of her life.
The director loved Constance and they had a meeting to discuss her being in the movie. But unfortunately, there was a scheduling conflict. The movie was going to start filming in the fall. But Constance was already committed to doing a TV show—which was filming at the exact same time. There was absolutely no way she could do both.
So, that was that. No movie role for Constance. The director would simply have to find somebody else.
Constance was devastated. She wanted to be in this particular movie so badly. The opportunity of a lifetime was slipping through her fingers and there was nothing she could do about it. It was a hopeless situation.
Or was it?
One night, very impulsively, she wrote an email to the director. It was—in her words—a very "dramatic email." She poured her emotions onto the screen. She explained why she was the right actor for the job. She told the director about all the heart and passion that she would give to this role… if they would just… delay… the entire filming process… so that it didn't conflict with her schedule.
It was a slightly crazy request.
"I didn't think it would work," Constance confessed.
Except it did.
The director was impressed by her chutzpah. They delayed the project… just for her. She got to do the part.
Moral of the story:
If there's something you really want and believe in… even if it's a total long-shot… even if you're convinced that your attempt probably won't work… just go for it anyway.
Send the email. Send the text. Send the application. Send the second application after your first one gets rejected. Show up with your résumé, with a dozen roses, with a list of reasons why you're The One. Crack open your heart and lay everything on the line. Say what you really feel. Don't dilute it. Don't hold back. "I'm completely in love with you." "I want this job." "I want another chance." "I know this might be crazy, but…" Aim for the bullseye and just go for it. As the kids say, "Shoot your shot."
You might not get what you want.
But there's maybe a one-half percent chance that… you will.
You never know. One email could change everything. Ten seconds of courage could determine who you marry, who hires you, who invests in your idea, who endorses your book, who says "yes" to your dream.
Set aside your pride. Take down the shield. Let yourself be open, vulnerable, and raw.
Deep breath. Say the words.
Shoot your shot.
---
So, there's this kid named Jack.
He's seventeen years old. He loves musical theater. He sings. He dances. He acts. He's a triple threat. He dreams about being on Broadway when he's older.
Jack discovered a company called the Broadway Collective. They run a summer program in NYC—five days of master classes led by Broadway legends, plus tickets to Tony Award-winning shows, dinner with cast members, and lots more. Basically, an absolute dream for any young performing artist.
Jack really wanted to attend this summer program.
His parents told him, "We love you, and we support you, but if you're serious about this… then you need to earn money for the tuition, airfare, and hotel by yourself."
Oh, Jack was serious.
He started mowing lawns, babysitting, doing all kinds of jobs after school. He saved up. One dollar at a time. Little by little, his dream-fund grew… and grew.
It took about a year, but he did it. He earned the cash. He enrolled. He got himself to NYC. When he arrived, he walked into the dance studio with fire in his eyes, looking like a tiger. He'd fought to be there. He made his dream happen.
Maybe you know someone just like Jack—someone who's ferociously devoted to their goals. I think there's a "Jack" inside every one of us. We all have that same power.
I once met a woman who sold all the furniture in her living room so that she could attend a business conference and meet her lifelong hero.
I know several people who wake up at 5am so they can crush a weightlifting session at the gym before the rest of the world even wakes up.
I know someone who spent a whole summer working on a fishery in Alaska, sloshing around in freezing water, knee deep in fish guts. Why? So she could save money—money that she re-invested into her art, producing a series of plays and one-woman shows.
This is how dreams are built. With deep love and passion. With tough choices and priorities and piggy banks that (usually) fill slowly over time. With persistence and determination and sometimes, an old lawn mower that you borrowed from a friend. Whatever it takes.
What about you?
Will you mow a lawn for your dream?
Will you sell a couch for your dream?
Will you wake up at dawn for your dream?
Will you sweat for your dream? Make an effort for your dream? Show up for your dream? Take a risk for your dream? Endure a tiny bit of temporary discomfort for your dream?
We can make excuses. Or we can make progress.
Just like Jack, we all have a "lawn" (literal or metaphorical) that we need to mow–some type of step that needs to completed in order to move closer, closer, closer to The Big Dream. Whatever your dream may be, and whatever your lawn may be…
Start mowing.
---
I was horrendously late for my workout.
My friend Justin had been waiting inside the gym for 25 minutes.
"Sorry sorry sorry sorry sorry," I spluttered as I bent over and double-knotted my sneakers. I hate being late. I try to avoid it at all costs. My day was not off to a good start.
To make matters worse, I had forgotten my water bottle, my elastic hair tie snapped apart, and there was a mysterious brown stain (coffee, let us hope?) on my shirt. I was an utter disgrace.
But Justin seemed unbothered.
"Hey. You made it!" he said cheerfully.
"Yeah, barely, I'm so late," I said, adding fourteen more "sorries" for good measure.
"Well, whatever! You got here. That's what matters," Justin said with great conviction.
I plopped down onto the floor and started stretching haphazardly. My body was in the gym but my mind was still far away, lost in a tornado of self-criticism. Then Justin crouched down to meet me. He looked me straight in the eyeballs.
"Hey Alex," he said with intense seriousness.
"Huh? What?"
A pause.
"You're doing a great job."
"I am?" I asked tremulously. My voice was a high-pitched mousey squeak.
"Yes."
"Oh. Okay."
And then we both started laughing hysterically. Me, more like snort-cry-laughing.
"No really though," he added. "You are."
YDAGJ became our inside joke. Whenever one of us was having a rough day for any reason—big or small—we'd look each other in the eyes and fervently declare: "YOU'RE DOING A GREAT JOB!" It became a catchphrase, like a secret password, reminding us to calm down, to breathe, to stop being so perfectionistic and relentlessly hard on ourselves, and to celebrate all the wins in life—especially the tiny wins that often go unnoticed and unacknowledged.
You made it to the gym? YDAGJ!
AND you registered to vote? YDAGJ!
You ate a good breakfast with some protein? YDAGJ!
Your heart was shattered but you found the courage to start dating again and you set up an online profile and uploaded two photos? Whoa. YDAGJ!
You're struggling with depression and it's hard to do stuff (like, any stuff at all…) but you went online and scheduled an appointment with your therapist? YDAGJ!
The world would be a happier, healthier, and more compassionate place if we remembered to say "You're doing a great job" more often. To each other. And to ourselves.
If you are having a tough day… if you feel like a walking garbage can disguised as a human being… if you feel frustrated because you only achieved the first 3 items on your to-do list which is 3,481 items long… then I want you to know… hey you… yeah, you…
You're doing a great job.
Really, you are.
---
I am a big fan of tiny goals.
When you set a massive goal ("I am going to write a book, find an agent, get a publishing deal, and become a NY Times bestselling author"), it usually feels overwhelming. You might feel paralyzed. You feel exhausted just thinking about it. You doubt yourself. You struggle to get started.
When you set a tiny goal ("I am going to set a timer for 7 minutes and write a quick 'thank you' note to someone who has changed my life"), it feels very different. You feel energized. You feel capable. You believe in yourself. You get it done. No problem! This builds confidence and momentum to tackle the next tiny goal, and the next one, and the next.
Tiny goals lead to big things.
Tiny projects can create a big ripple effect—and touch many people's lives.
Recently, I challenged a few of my clients to complete a tiny writing project. They've been writing tiny poems, short letters, little cards, quick stories, and we've been having so much fun together.
Then I realized, "I want to challenge EVERYONE to do this!"
So, YOU are invited to join in.
It's time for…
– THE TINY PROJECT CHALLENGE –
Here's what to do:
– Choose a tiny project and complete it. It can be a tiny writing project, a tiny audio project, a tiny video project, a tiny drawing project, any kind of tiny project that feels energizing and meaningful to you. (Don't know what kind of project to do? I put several ideas down below, towards the bottom of this message.)
– Optional: Take a photo of your finished project.
– Optional: Email your photo to hello@alexandrafranzen.com to say, "I did it!"
– Optional: Let the world know about your tiny project! Tell your friends. Tell your colleagues. Get your kids involved. Post your photo online. By doing this, you might inspire dozens of other people to complete a tiny project, too. More people. More projects. More love, art, and beauty being added to the world.
– TINY PROJECT IDEAS –
Here are some ideas on what your tiny project could be…
– Write a beautiful "thank you" letter to someone who has touched your life.
– Write a glowing 5-star review about a book or product that you really love.
– Write a short newsletter (any topic) and send it to your mailing list.
– Write a short blurb about "my biggest lesson from 2018, so far" and post it online, share it with your family, or both.
– Write a "You really matter to me" letter to someone who always makes your day a little better—maybe a bus driver, a teacher, a barista, an assistant, a grocery store clerk, your professor, whoever you want.
– Write a letter to an elected representative (mayor of your town, senator, etc.) to say "thanks for the great work" and / or, to encourage them to make a particular change that you'd like to see.
– Write or record a short message for a friend who's going through a hard time right now. Let them know that they're loved, that you're here to help and listen, and that they're not alone.
– Write a "5 reasons why I love you" letter to your partner, to your kids, or to yourself.
– Set a timer for 6 minutes and fill in the blank: "Before I die, I want to _____."
– Set a timer for 7 minutes and write a 7 line poem. Any topic. Any style.
– Set a timer for 8 minutes and write down a list of your 8 favorite moments / memories from 2018, so far.
– Set a timer for 9 minutes and write down a list of 9 things you really want to do, see, or experience in 2019.
– Set a timer for 10 minutes and write down 10 suggestions on what to do to heal your heart after a break-up, divorce, death or any kind of painful loss. Keep this list. One day, you (or a friend) might be so grateful to have this comforting list.
– Set a timer for 11 minutes and write the beginning of a story (fiction) beginning with this line: "It was 11:11pm on New Year's Eve, and that's the moment when I knew…"
– Set a timer for 12 minutes and write the beginning of a story (fiction) beginning with this line: "There are 12 signs that you have mermaid lineage in your blood. The first one is…"
– Write a letter to your kids that goes: "Here are a few things I learned the hard way, in life, that I hope you'll learn sooner than I did…"
– Doodle a cartoon and write a caption.
– Make a helpful worksheet or checklist. Any topic. Packing for a trip, launching a business, getting ready for college, decluttering your closet, etc.
– Make a tiny poster (or a big one) with an inspiring message that the world needs to hear. Put it somewhere in your city (bulletin board, pinned to a telephone pole, bus stop, etc.)
– Write a very sexy text message to your sweetheart. Or, if you're single right now, to yourself, or to your imaginary / future sweetheart.
– Plan a wonderful party (a letter writing party, a vision board party, a book club meeting, a taco night, whatever you want) and write a beautiful invitation. Send it to your friends.
– Pretend it is many, many years from now. Write an obituary for yourself, as if you've died. Mention all the incredible things you experienced and contributed to the world during your lifetime.
– Pretend it is exactly one year from today. Write a letter to a friend. Describe all of the wonderful things you experienced and learned and created during the last 12 months. "Wow, what a year it has been! Let me catch you up on everything that has happened…"
– Pick someone you'd like to interview. Your mom. Your grandpa. Your next-door neighbor. Your mentor. Make up a list of 5 questions you'd really like to ask them. Schedule an interview and do it.
– Write a mini essay (one page or less) titled: "If I ran the country…"
– If writing just isn't your thing, you can take any of these ideas and do an audio or video version of the same project. Record an audio message with vocaroo.com. Email someone a video with bombbomb.com. Use your webcam to make a GIF with andtheniwaslike.co.
– Or, come up with another tiny project that sounds fun to you.
Have fun! Happy creating! And don't forget… You're doing a great job.
---