Want to be part of this?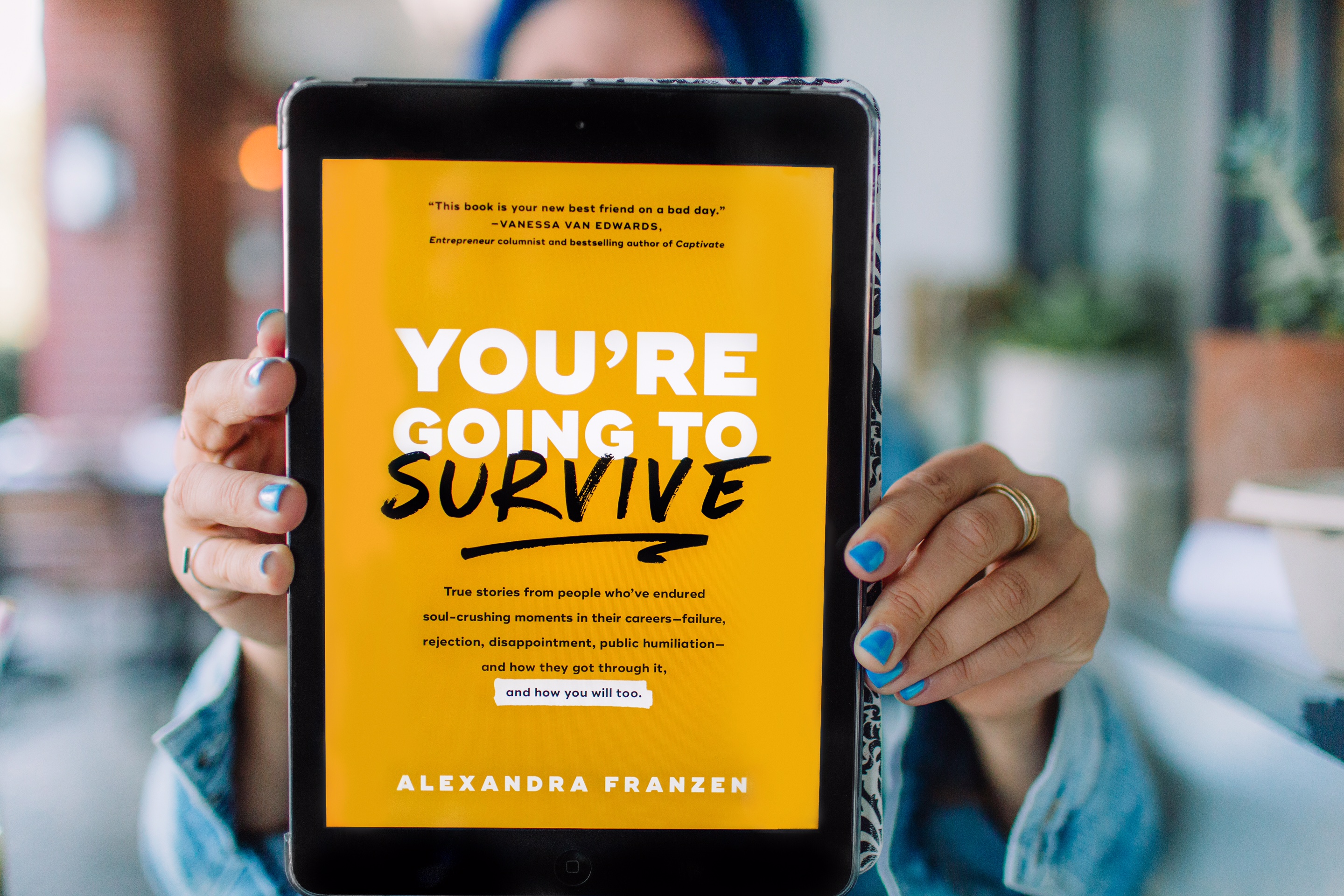 Hi friends!
I have a new book coming out soon. It's called You're Going to Survive.
It's a book about how to deal with stressful, soul-crushing situations in your career. Unhappy customers. Projects that flop. Embarrassing mistakes. Criticism. Rejection. Public humiliation. Pretty much every oh-my-god-that-is-so-awful situation you can imagine. How to get through it, grow through it, and emerge stronger.
In this book, I share several stories from my own life. I also interviewed lots of colleagues and I asked, "Can you tell me about one of the worst moments of your career? What happened? How did you survive it? What did you learn in the process?"
Creating this book reminded me that human beings are incredibly resilient, that setbacks can lead to breakthroughs, that rejection is often a blessing in disguise, and that we're all so much stronger than we think.
You're Going to Survive. will be at your neighborhood bookstore in the not-too-distant future. Several people in my community have asked, "How can I support this book? How can I be part of this project?" I'm really grateful you asked. Thank you. You are amazing.
Here's what you can do:
— You can buy the book. (Of course. :)
— You can tell your friends about this book.
— You can reach out to someone who's struggling right now. Give that person a pep talk and a hug. Remind them, "You're going to make it through this."
— You can say those words to yourself, too.
— You can mention You're Going to Survive. on your blog, in your newsletter, wherever you like to hang out, and encourage folks to check it out.
— Here are some nice book photos that you're welcome to download and share anywhere you want: Photo 1, Photo 2, Photo 3, Photo 4. Or grab any photos from my website that you like.
— Here are some links you can share, too:
You're Going to Survive – Kindle: http://bit.ly/survive-kindle
You're Going to Survive – Paperback: http://bit.ly/survive-paperback
You're Going to Survive – Spotify Music Playlist: http://bit.ly/survive-playlist
You're Going to Survive – Free Mini Audiobook: http://bit.ly/survive-free-audiobook
— You can write your own "Survival Story" and share it over dinner with your family, on your podcast, or wherever you want. Tell a story about your biggest mistake. Tell a story about a project that didn't work out. Tell a story about not getting the promotion you wanted, and how much it hurt, and what you did to feel better. People will be so moved by your story. You will help them to remember, "Everyone goes through tough stuff. We're never struggling alone."
— If you're a journalist, blogger, TV, radio, or podcast producer, anyone who works in the media, you can interview me. I'd love to share stories and tips from the book — and light up your audience with optimism and hope. Email me at hello@alexandrafranzen.com and let's set something up.
For the media: Here's a page with more info about the book, and potential interview topics, and here's my audio / video highlight reel. In the past, I've been mentioned in places like Inc, BuzzFeed, Brit+Co, The Atlantic, and You're The Boss! The NY Times Small Business Blog. I've appeared on shows like American Public Media's Marketplace, Real Talk Radio, The Lively Show, Entrepreneur on Fire, and lots of AM / FM morning talk shows. I always come prepared and ready to rock!
— If you work at a bookstore, you can order the book and sell it at your shop. Please contact Michelle at Mango Publishing — michelle@mango.bz — to do that.
— You can make a donation to Lifeline, the Crisis Text Line, or another organization that provides support for people who are going through a really difficult time.
— You can look your colleague, yoga teacher, barista, or hairstylist square in the eyes and tell them, "Hey. You are really great at what you do. I appreciate you."
— You can do all, some, or none of the things I just mentioned. No matter what, you are wonderful. Thanks for reading this note — and thanks for your kindness and support!
---