A chronology of my life as a professional writer.
What does it mean to be a "professional writer"?
It means people hire me to write things.
What kinds of things?
All kinds of things – blog posts, educational materials, book proposals, full-length book manuscripts, scripts for podcasts and videos, talks and speeches, press releases, text for product packaging, messages for Tarot-inspired cards. Occasionally, dating profiles.
How did I become a professional writer?
It's a long story.
Here's the short version, broken down into significant years and milestones.
If you're an aspiring writer – or someone who's curious about how different types of creative careers come to "be" – I hope this dive into my personal history is interesting.

1984. My parents get drunk on margaritas in Mexico. Sex happens. Nine months later…
I'm born. I'm late. I'm supposed to be a Scorpio but I come out as a Sagittarius instead. My mom names me "Alexandra," inspired by a character in an opera that she loves. The name means: "Defender of Mankind." (No pressure, right?)

1988-ish. I write my first word: "HORSE." Followed by my childhood nickname: "ALI."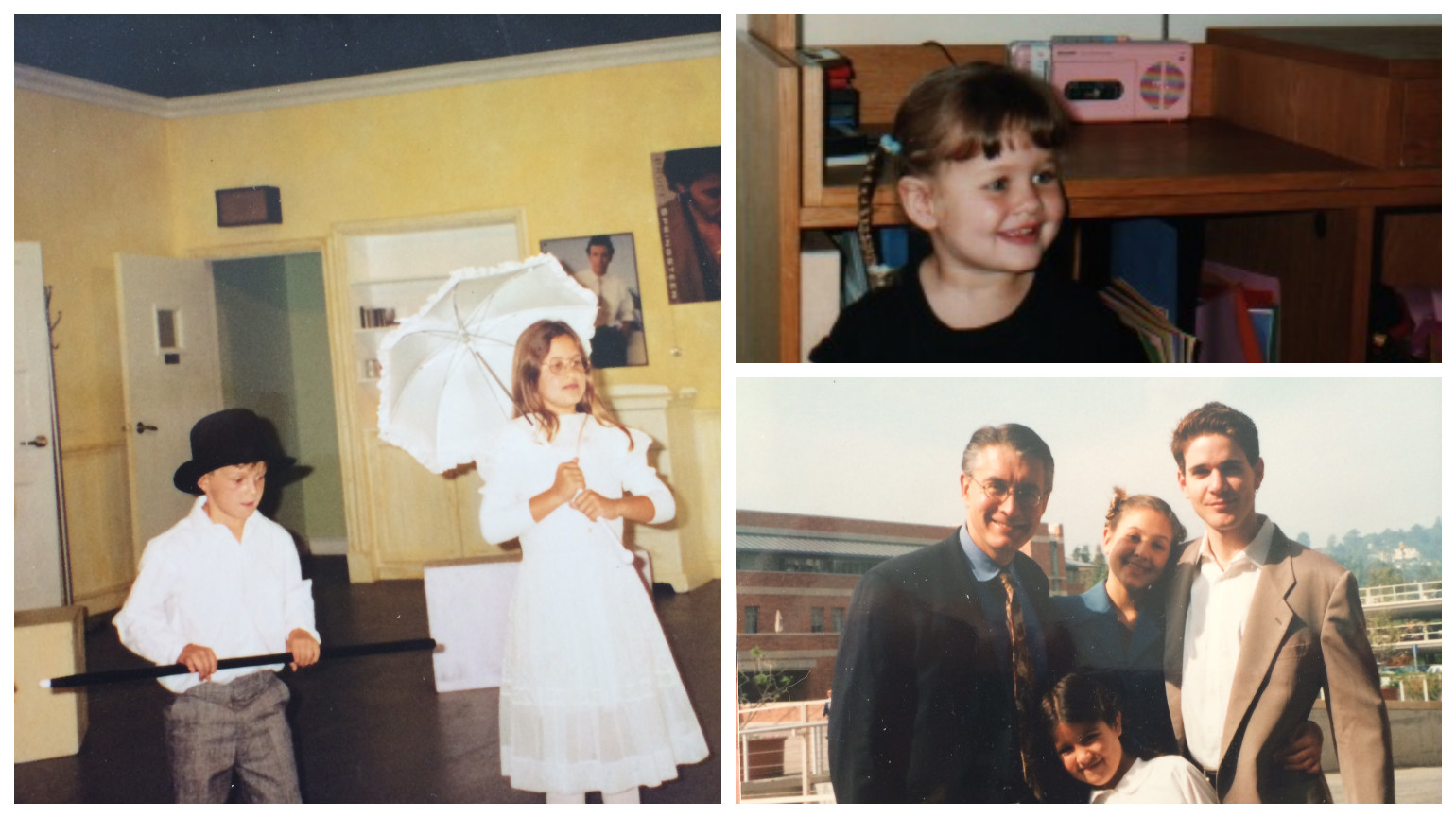 Left: Me, performing in some kind of bizarre school play / Top right: Chubby cheeks! / Bottom right: Dad, little sister Olivia, me, and my older brother Ben

1992. My teacher scolds me for holding my pencil "the wrong way." (I'm gripping it like a hammer.) I respond, "But I have the best handwriting in the class. So what's wrong?" She seems flustered and can't come up with an explanation. She doesn't correct me again.

1993. I make my first "book" – a collection of flying unicorns that I draw and replicate using my dad's Fax/Xerox machine. I sell copies to my classmates for 25 cents a piece. My teacher tells me to stop charging money because it's not appropriate to do that at school. (In my defense, I am simply responding to market demand…!)

2002. I write, direct, and perform in a 10-minute condensed version of the musical Jekyll & Hyde. My high school theater troupe takes 1st place at a state competition. Minds are blown. Trophies are won. We're invited to perform onstage at a big theater in Hollywood. Small voice inside says: "Maybe I am pretty good at being 'creative'…"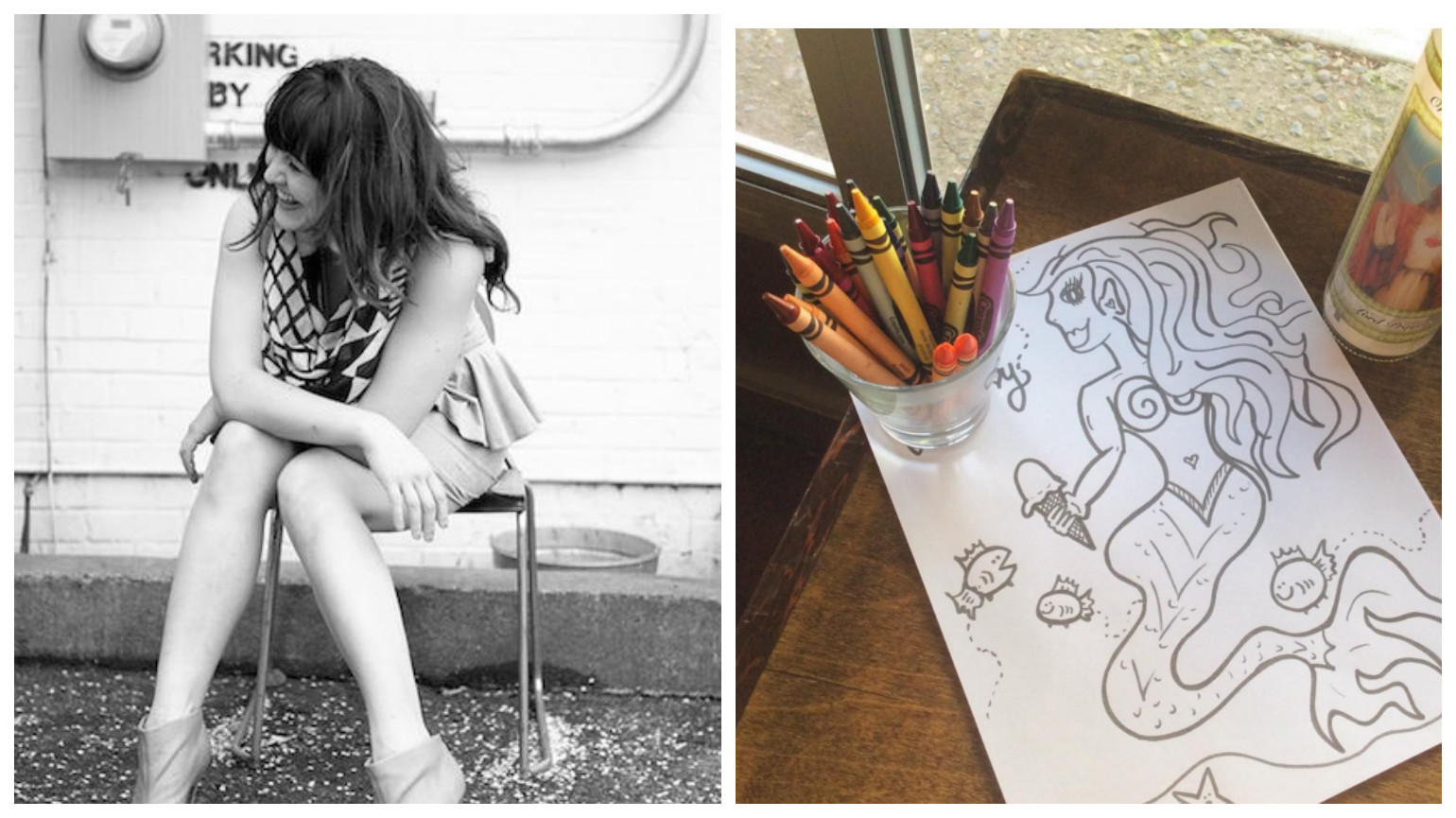 Left: Me in a chair, Minneapolis, date unknown / Right: Mermaid coloring sheet that I drew

2003. I confess to my favorite high school teacher that I want to be a writer and pursue a career in journalism. "There's no money in writing," she tells me flatly.

2004. I confess to my favorite college professor that I want to write articles that change the way that people think about health, spirituality, and communication. He urges me to go to medical school first. "Nobody will take you seriously unless you have a PhD."

Left: My "look" throughout most of college / Top right: Journal at a writing workshop / Bottom right: Writing on my table next to some Tarot cards

2005. First article gets published in my university's student magazine, reaching about 16,000 readers. I see my name in print for the first time. I literally stroke the page with my fingers like a creepy psycho-killer. I'm offered a weekly column. My heart explodes with joy.

2006-7. I write my first novel – which nobody wants to publish. I write my first one-act play – it's selected for a festival but I can't afford to fly there and actually produce it. I write my first short story and it gets published in a magazine – I receive thirty dollars for my contribution. I get hired to write for an indie newspaper – the newspaper goes bankrupt. They say "Sorry, we can't pay you" and offer me a pair of ski lift tickets as compensation.
Discouraged, with dwindling savings, I decide to pursue a "real job" at a company that can actually pay me enough to survive.
I apply for a job as an administrative assistant at a circus. They tell me I'm not qualified.
I apply to work for a major public broadcasting company. I get offered a paid internship in the Communications department. I'm in.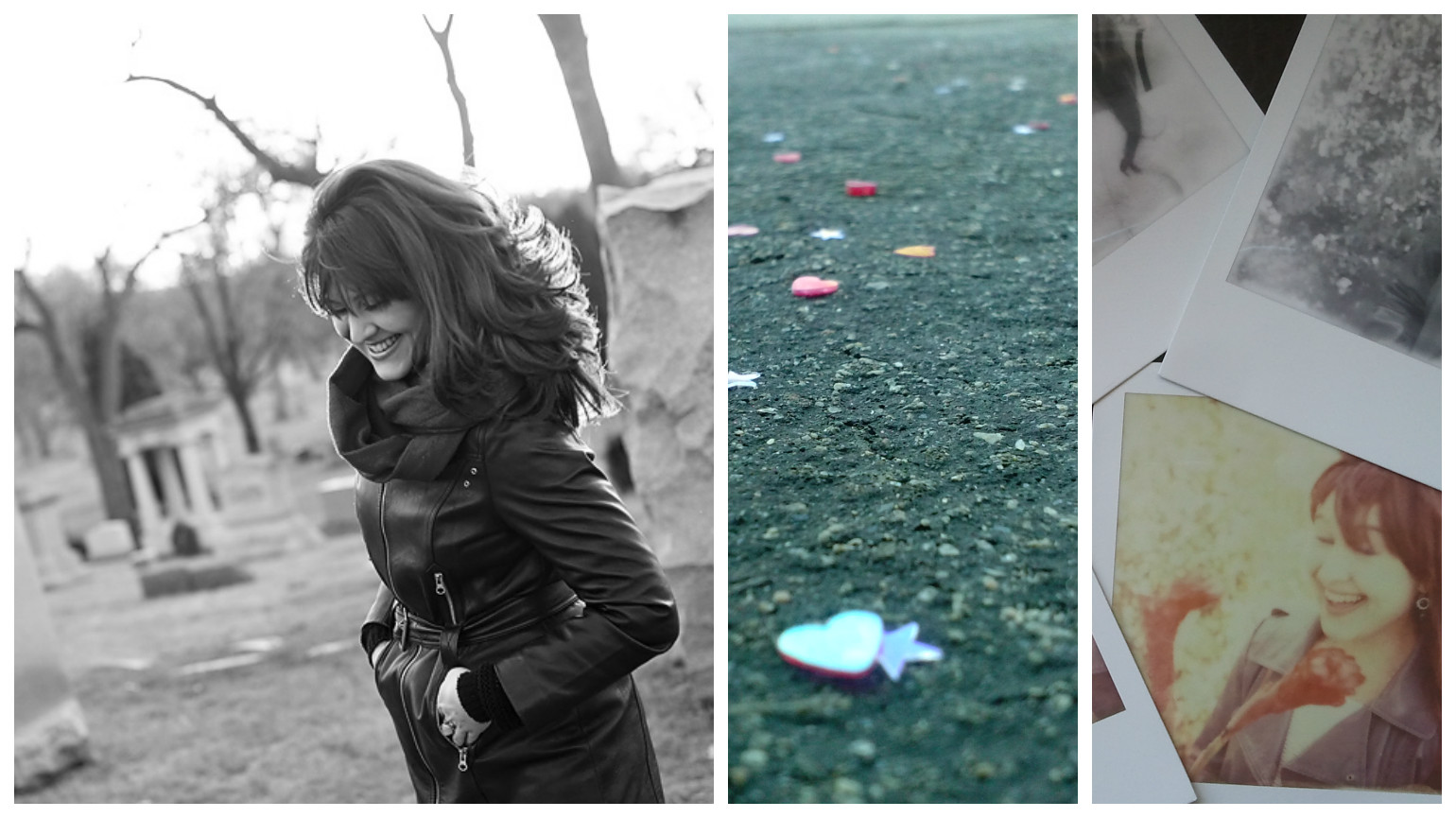 Left: My favorite graveyard in Minneapolis / Center: Stars on concrete / Right: Polaroids

2008. I'm working late at the broadcasting company after everyone else has gone home, writing a tedious, lengthy technical manual and staring into my bulging email inbox filled with requests for meetings that I don't want to attend. I sink under my desk onto the floor, telling myself I just need "a quick nap." Instead I curl into a fetal position and start sobbing.
Something is wrong but I don't know what it is.

2009. I figure out what it is: I chose the wrong type of career at the wrong type of company and consequently, I am depressed. I thought I wanted a "stable" job with a 9-to-5 schedule – and maybe I did once – but not anymore. I feel suffocated and creatively sterile.
The Great Recession is in full swing. Dozens of my colleagues get laid off due to "budget cuts." Darkly, I find myself wishing that the company would fire me next so that I could be free. But they don't.
So I decide to fire myself.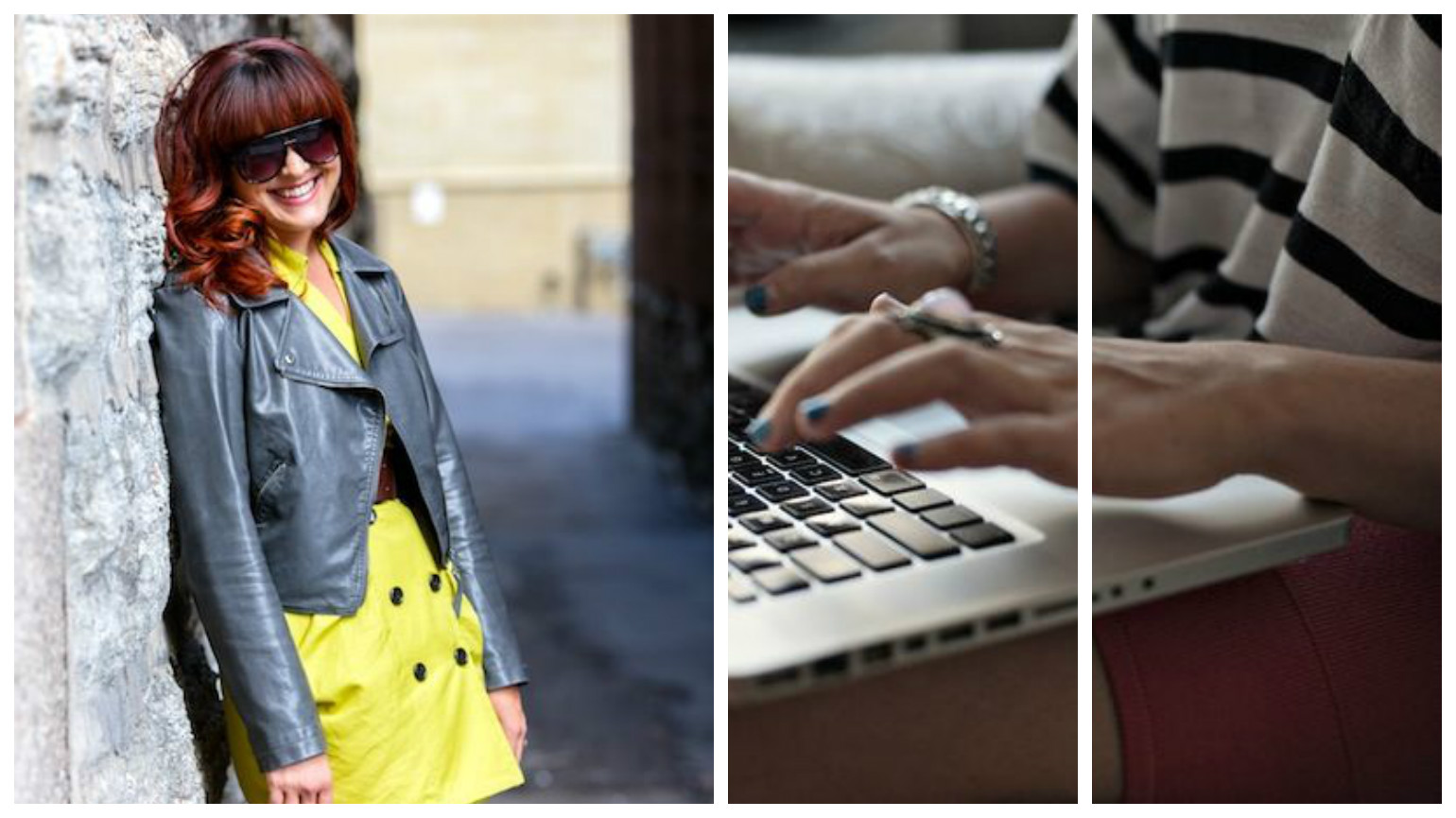 Left: Being self-employed makes me haaaaappppyyy / Right: Typing typing typing

2010. A very big year. Two significant dates:
April 1, 2010.
My last day at the office. My colleagues throw me a party and wish me all the best.
"What's next for you?" they ask.
"I'm going to be a freelance writer," I respond.
This is greeted with kind nods and flashes of intense concern in their eyes. I know what they're all thinking: "In this economy? That sounds like a really risky, stupid plan." I know, because I'm thinking it too. But I also know that I have to try. If I don't try, I'll always regret it, and I'll always wonder "What if…?"
July 20, 2010.
I get an email from a woman named Danielle LaPorte. It reads:
I want to hire you.
so call me, dammit.
Followed by a phone number.
I call. We talk. She offers me a job working as her virtual assistant / communications manager / copywriter-ish person. Trial basis, at first. Then we'll see how it goes.
I privately think to myself: "I'm not sure I know how to do all of those things – but I can probably learn as I go along."
I say: "When can we start?"
She says: "Right away."
She becomes my first major client.
It's a beautiful partnership. I work hard for her. She opens doors for me.
Nothing is ever the same.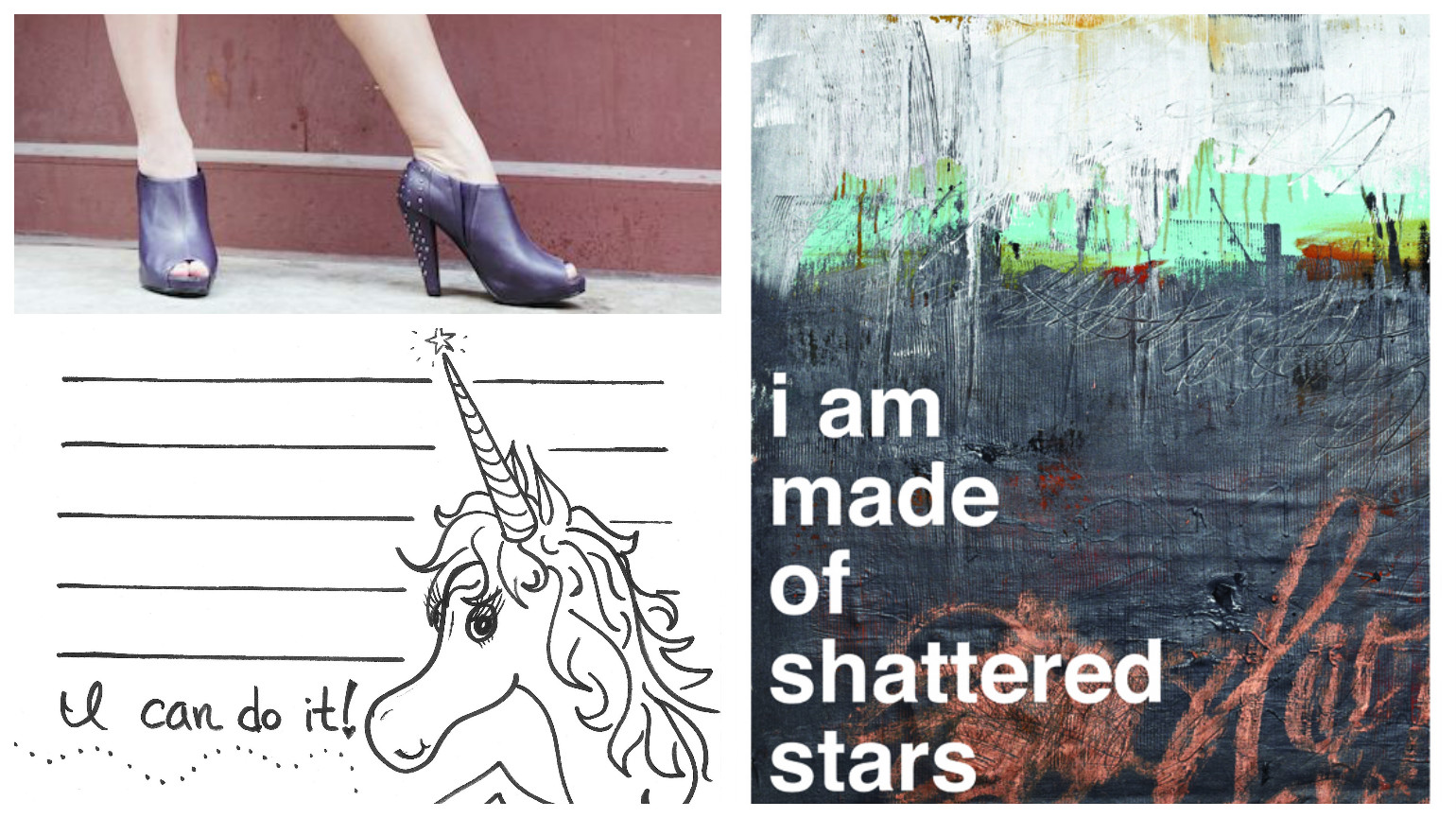 Top left: I don't know what happened to those shoes but I miss them / Bottom left: Another one of my doodles / Right: A painting collaboration with Kent

2011. I re-brand myself as a "copywriter for creative entrepreneurs." I experiment with different website layouts, service packages, and rates. I write for a couple of websites and freelance for a few marketing and branding agencies on the side. I continue to publish new pieces on my blog.
Word-of-mouth begins to spread. One happy client says to a friend, "You've got to hire Alex." Friend hires me. Friends tells another friend, "You've got to hire Alex." And on it goes.
I'm building a reputation and a client base. People are emailing. Testimonials are coming in. Things are happening. My income doubles.
My career begins to feel grounded and solid. I know who I am – and I know what I can offer.
I feel big changes coming around the corner – but what, I don't know.

2012. January 1, 2012. I make a New Year's wish.
"I would really love to teach at a writing retreat."
January 5, 2012. I wake up to discover an email from a woman I've never met.
"Will you come teach at our retreat?"
I start to believe in God.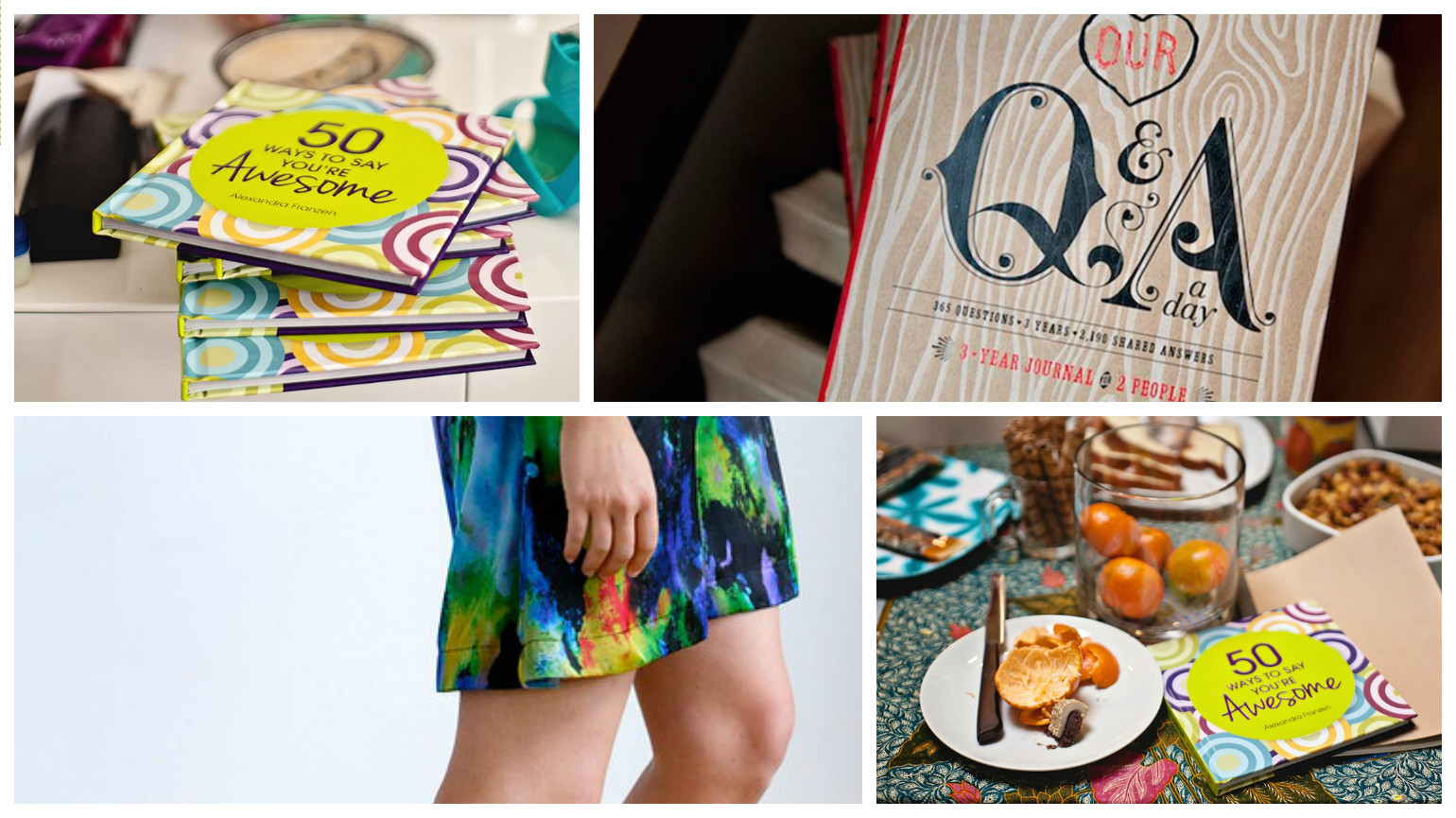 Top left: My first book, 50 Ways To Say You're Awesome / Bottom left: pretty peacock dress / Top right: Second book, a three-year journal for couples to complete together / Bottom right: Fruits and books at a writing workshop

2013. The ink is dry on my first book deal. I cry.
Then I am invited to write the text for a new journal with another publisher – it's like a second "surprise" book deal that I hadn't planned on. More crying.
I continue working with clients on various types of copywriting and ghostwriting projects.
I plan a multi-city workshop tour that culminates with a birthday workshop in Hawaii.
I collaborate with a painter named Kent and we make awesome art together.
I end a relationship. I move across the country. I meet the love of my life.
I do a book tour. I see my books on shelves in actual bookstores. I sign autographs for the first time – which is flattering and cool and surreal and weird. One book sells a lot of copies. The other, not so much. Both projects feel very meaningful.
I celebrate the end of a monumental year by visiting my family, spending time at the beach, and watching Grey's Anatomy re-runs in bed with my mom.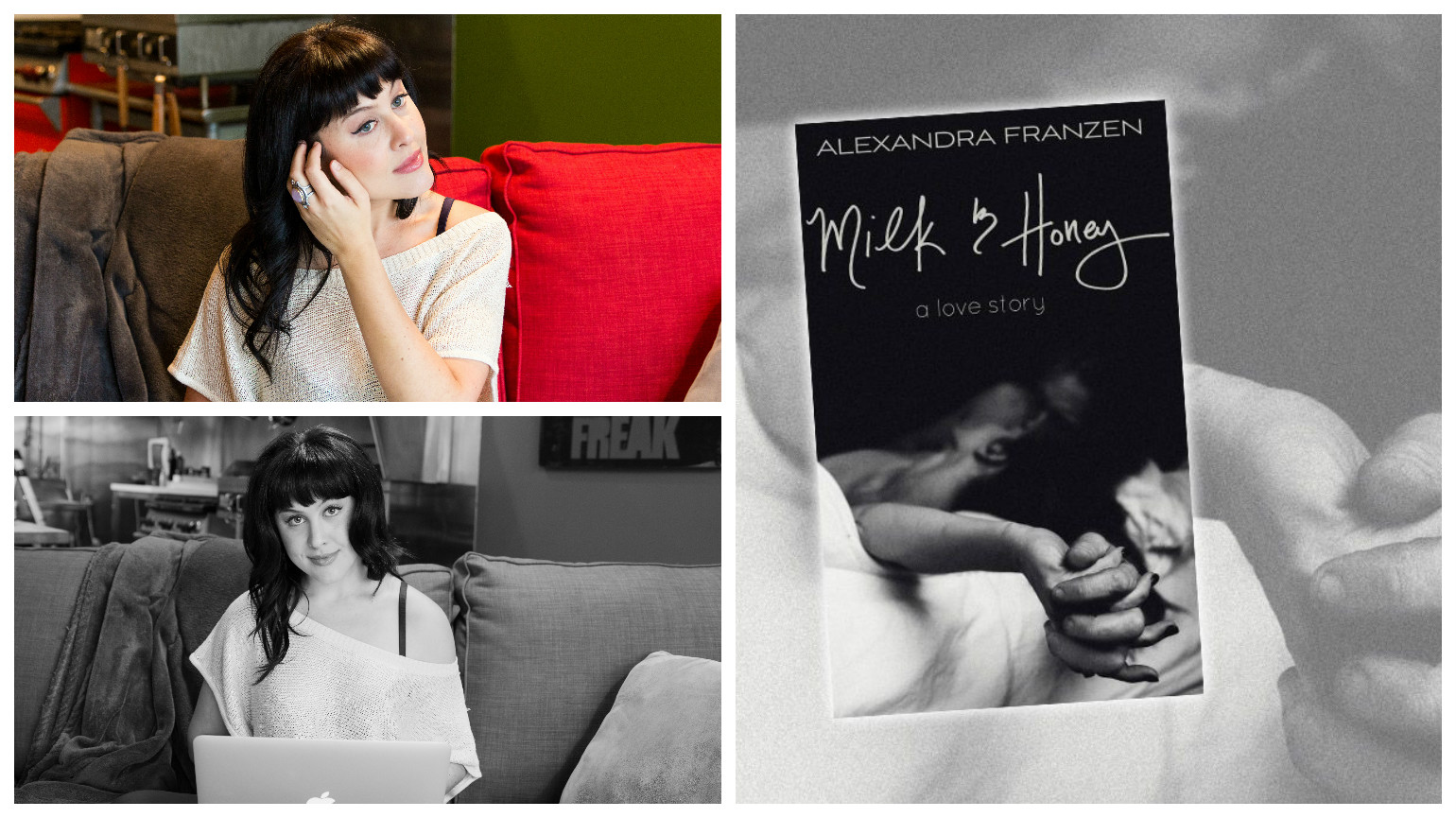 Top left: At home in Portland / Bottom left: Me and my laptop-friend / Right: Promo image for Milk & Honey

2014. I self-publish my third book, an erotic novel called Milk & Honey. A customer emails me to confess that the book inspired her to make love to her husband alllllll night long. #SUCCESS
I teach workshops in the US, Australia, and Canada, covering about 17 cities in one year.
One woman walks out of my workshop and asks for a refund. She felt offended when I used a Tarot card deck as part of a creative writing exercise. She explains to me that Tarot conflicted with her religious beliefs and seeing the deck left her feeling shaken and deeply upset. I refund her without question. (Note to self: you can't make everyone happy every time, no matter how hard you try – but you can always strive to handle conflict gracefully.)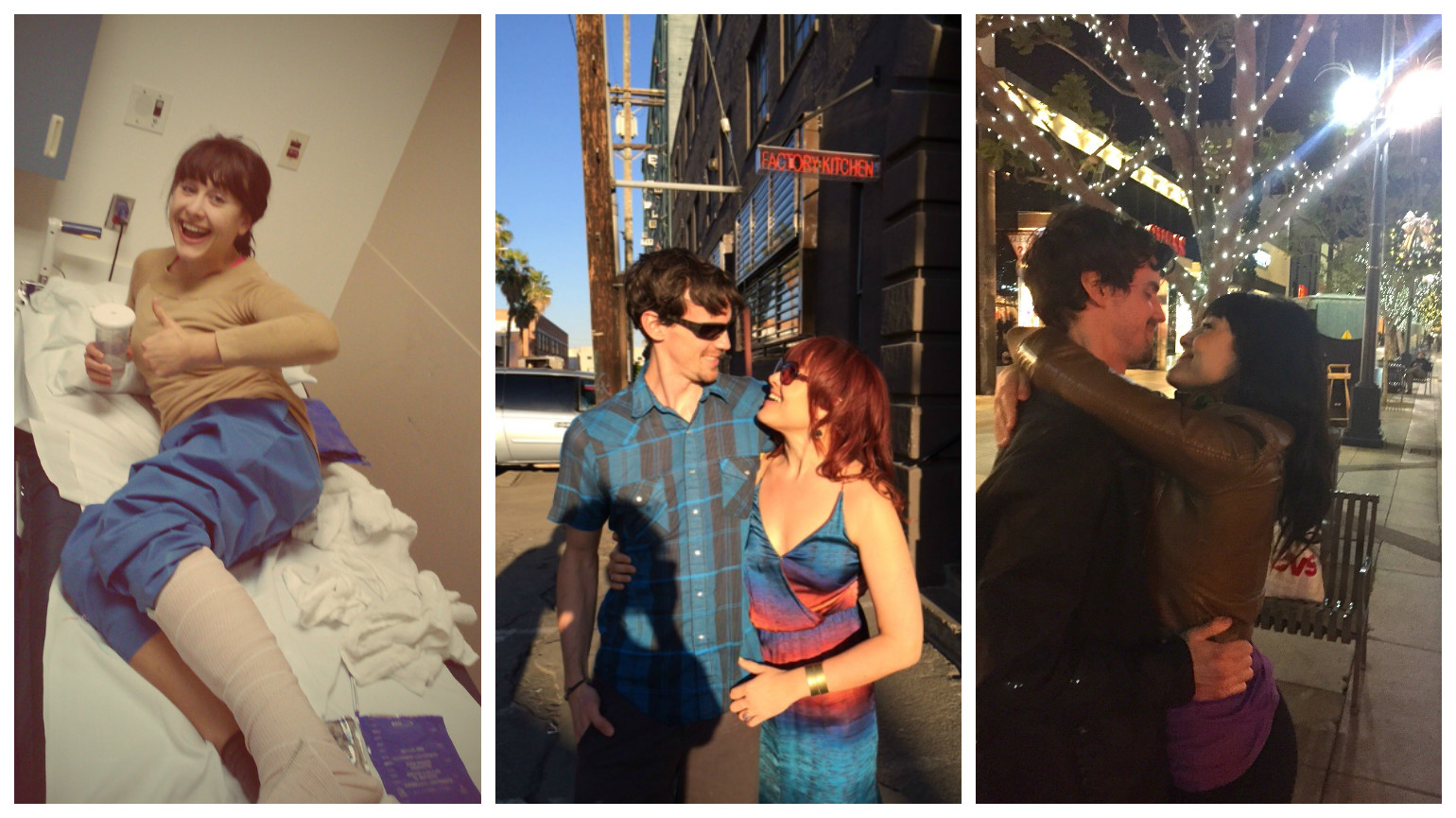 Left: Emergency room, broken fibula / Center: With Brandon on our first trip to meet my parents in Los Angeles / Right: With Brandon on my 30th birthday

2015. I decide to teach fewer workshops and re-focus on client projects and personal art projects. I love teaching, but I'm craving less time on the road and more time at home.
A new publisher emails to ask if I will consider putting together a new book for them. I say "Yes, absolutely." Then I fall off a rock climbing wall, break my fibula, get surgery to repair the bone with a metal plate, and "Yes, absolutely" turns into "Maybe later" and "Maybe later" turns into… full-blown existential crisis.
On pain meds, frustrated, dealing with crutches and physical therapy for many months, I question everything.
Do I want to continue working as a writer? Do I want to spend the majority of my waking hours sitting in front of a computer screen and typing? Do I want to continue using social media or stop forever? Maybe I should open a hair salon? Or become a personal trainer? Is there something else I ought to be doing with my life?
I have many questions and no answers. I wait for clarity.
Meanwhile, I keep writing and sharing online because… it's what I do.
Also, I dye my hair blue.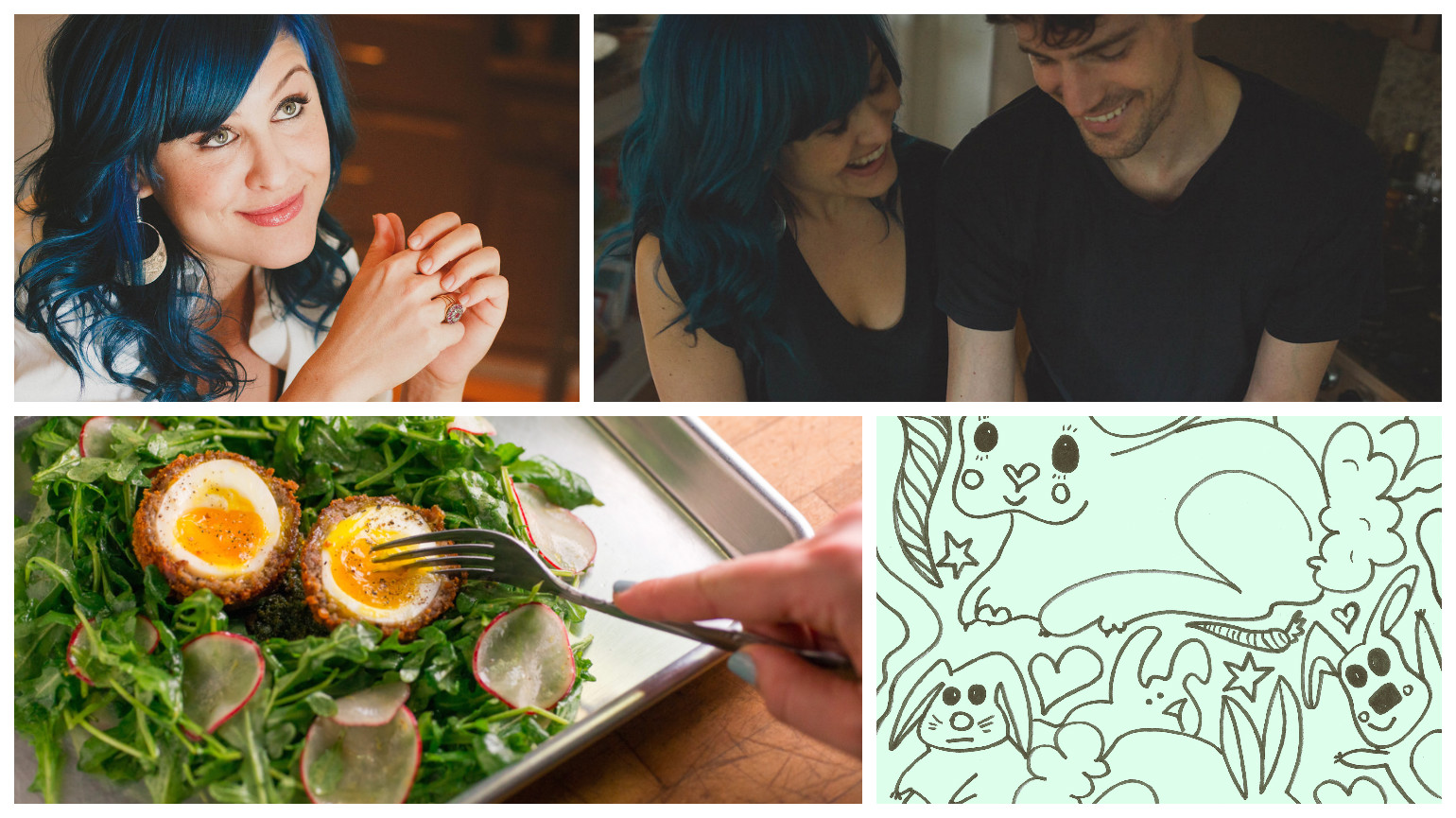 Top left: Blue hair, don't care / Bottom left: Eggs from our restaurant / Top right: Me and Brandon in my parents' kitchen / Bottom right: I like drawing bunnies

2016. I start drawing again – mostly bumblebees, mermaids, and unicorns. I buy a watercolor set and paint a cowboy. In a semi-spontaneous blur, my boyfriend and I open a pop-up restaurant together. I discover that I love the frenzy and intensity of working in a kitchen environment. I feel my creative muscles stretching in new ways.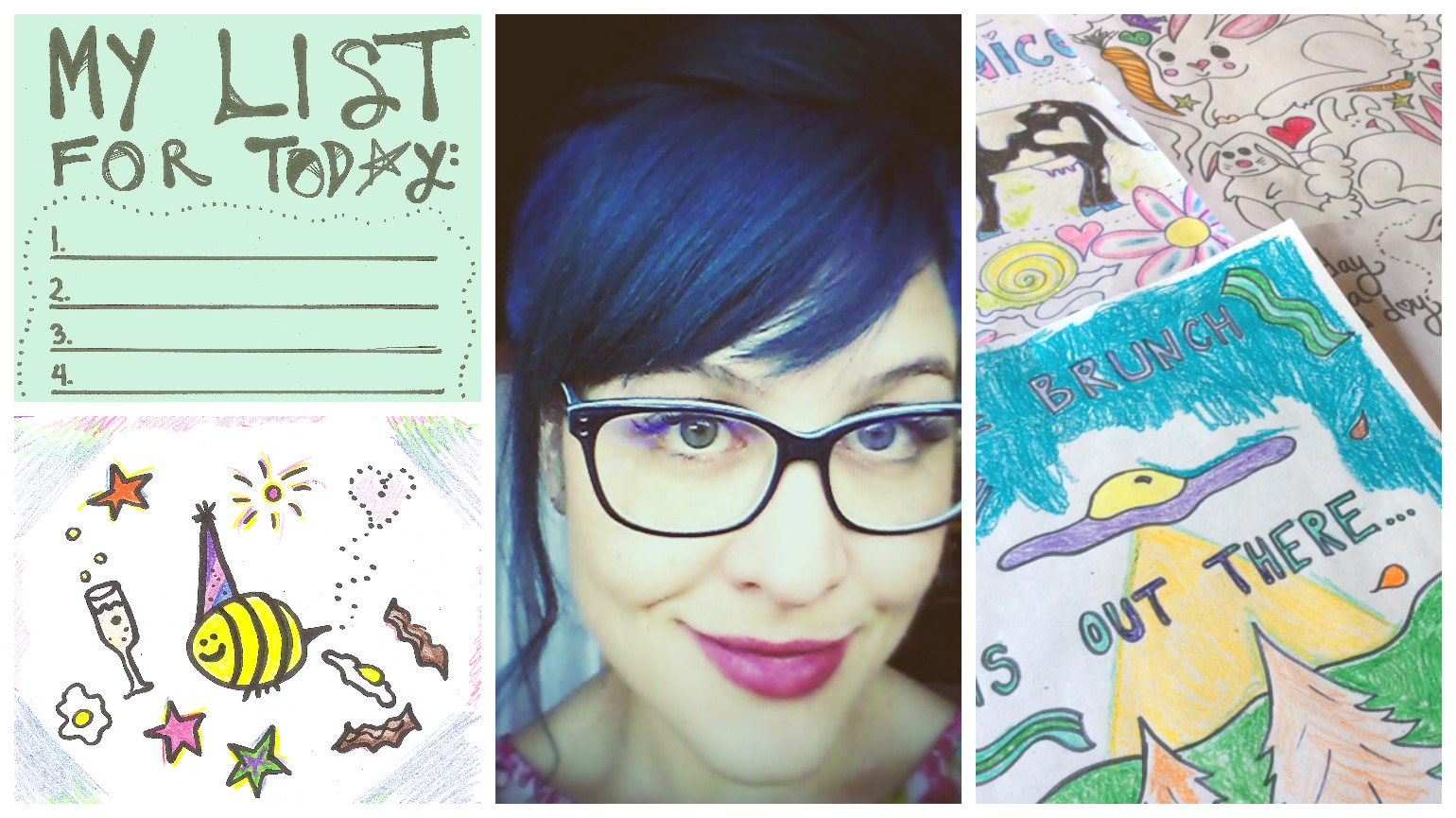 Top left: One of my goal-setting sheets / Bottom left: A bumblebee doodle / Center: Blue & specs / Right: Our restaurant customers like to color while they wait for their food to arrive

Today.
I have a small handful of amazing clients.
I don't consider myself a "visual artist" but I draw almost every week.
I send out my email newsletter once or twice a month. It feels like dropping a glass bottle – the kind with a tiny message inside – into the ocean and watching it float away to beautiful strangers on some unknown shore. I never know what's going to happen when I hit "send" – and I love that.
I make enough money to live the way I want to live – which includes renting a one-bedroom apartment in a fun neighborhood, driving a used car, donating to causes that matter to me, and splurging on a massage about twice a month. My lifestyle is very luxurious compared to some, very simple compared to others. It works for me. I feel free. My time is my own.
My hair is still blue.

Left: Another one of Kent's paintings, featuring words by me / Top right: On my couch at home / Bottom right: I like clouds

The big lessons.
– Just because someone you admire tells you "You can't do that" or "Nobody will take you seriously" doesn't mean that it's true.
– There is no 5-step, check-box process for success. The biggest opportunities in my life (book deal, major clients, meeting my sweetheart, etc.) all arrived in a very surprising, non-linear fashion. It's the chance meeting, the surprise email, the spontaneous road trip – those are the moments that lead to something big. (At least for me.)
– Be patient with your dreams. Everybody wants to be an overnight success. Nobody ever is. Keep working steadily. It's amazing what can happen when you keep working, and keep working, and choose not to give up.
– It's great to make a "plan" for your career, but try not to be agitated if your plan evolves.
To quote Mary Oliver:
"Keep some room in your heart for the unimaginable."
The "unimaginable" might arrive in a flash of insight during your next workout or shower, or a 3am email from a stranger you've never met, or a job opportunity you never saw coming.
I can't wait to see what type of "unimaginable" life I'm living 5 or 10 years from now.
I suspect it will involve writing – in some capacity or another – but who knows?
Anything could happen. I am open to all possibilities.
-Alex
The photos you see on this page were taken by a number of people, over many years, including Leslie Plesser, Jenn Kelly, Catherine Just, Esme Wang, Thea Coughlin, Danielle Cohen, Aaron Lee, my sister Olivia Franzen, my parents, and myself.
---