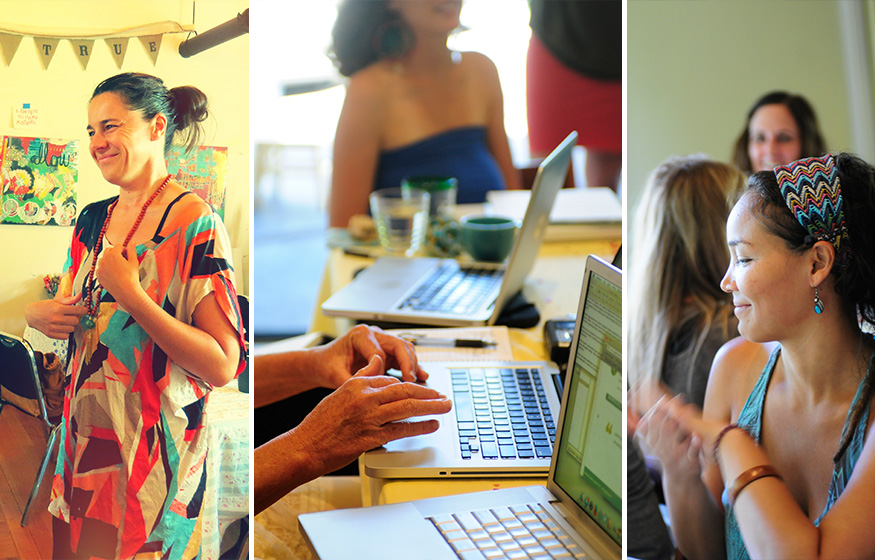 Beautiful humans from last year's workshop tour. First shot by Kyeli. Others by Catherine.
Want to teach something? Good. Then you definitely should.
You don't have to be an expert. You don't have to be a master.
You just have to know … a little bit more than the people you're teaching.
Enough to save them a little bit of time, a little bit of confusion, a little bit of suffering. (A "little bit" is still a gift.)
Start with love. Keep it simple. Teach what you know + care deeply about.
You really can't mess it up.
But if you're (still) worried that you will … here's a checklist to ease your mind + heart.
Step 1. Make sure you want this.

You think you want to teach a workshop, a class or retreat. And maybe you do.
Or maybe you're just craving human connection. Or a sabbatical from your computer screen. Or a healthy dose of attention.
Maybe, really, you want to start a book club. Or throw a potluck dinner party. Or grind up against somebody cute at a dance club.
Whatever you want … is beautiful. Just be clear about what it actually … is.
Step 2. Find the space.

And if at all possible, find a space that's free … or cheap.
Your backyard could be magical. Your mama's living room could be perfect. Public parks are … open to the public.
If you've got a budget to work with, eVenues is a simple place to start your search. AirBnB works, too — particularly for cozy, slumber-party-style gatherings.
A pro tip: call a local hotel and say, "I have a group of ___ people. We need a conference room for ___ hours, and we'll need food + beverages, too. Do you allow people to book board rooms in exchange for meeting a food / bev minimum? If so, what's the dollar amount we'd need to hit?" They may be happy to work out a deal. And you'll essentially get a "free" venue, in exchange for buying food. Which you probably would have bought anyway. You're welcome.
Step 3. Decide what it's "all about."

Don't overthink it, or feel like you've got to overexplain it.
Maybe your workshop is all about … squishing your toes in the mud + learning how to take photos in the rain. Because water from the sky is amazing, and making art feels good.
Or maybe your workshop is all about … learning how to write love poems that make people blush.
Who gets excited about complicated, endlessly-long, brain-hurting curriculums? No one.
The simpler your concept, the better.
Step 4. Surrender to whatever it wants to be.

Even with the best venue, the best concept, the best of intentions (and promotions) … ultimately?
Whatever's going to happen is going to happen.
I've had workshops sell out in less than three hours — with a waiting list. And I've had workshops I couldn't fill to save my life.
I've led workshops that felt like sensual, poetic jamfests. And I've led workshops that felt like get 'er done motivational crank-a-thons.
I've taught workshops where nearly everybody cried. And ones were we couldn't stop giggling. And ones where people (literally) burst out singing.
You can't force the sales. You can't force the feeling. You can't force … anything, really.
All you can do is set the stage + come prepared to share.
The very best thing you can do? Is actually care about the people who are there.
Step 5. Be humble + be generous.

There are 365 days in a year, 24 hours in a day, and infinite things we can all do with our time.
When a fellow human is willing to spend a portion of their LIFE in your company — giving YOU their full attention — that's an honor.
Be humble + be generous.
Give them something to remember.
xo.
P.S. Workshops. You like 'em. I teach 'em.
My 2014 Write Yourself Into Motion tour is in full swing, with 3 countries and 10+ cities … and a sparkly, fresh + simpler curriculum. (Yep. Debuting some new material. 'Tis different from last year.)
Write Yourself Into Motion is a place for people who don't write as much as they'd like, as well as they'd like, as fast as they'd like.
It is especially wonderful for business owners, bloggers, aspiring authors, or anyone with a big mission that's tricky to put into words.
Here's everything you want to know: WriteYourselfIntoMotion.com. (Thank you + I can't wait to meet you. Or meet you, again.)