New in town?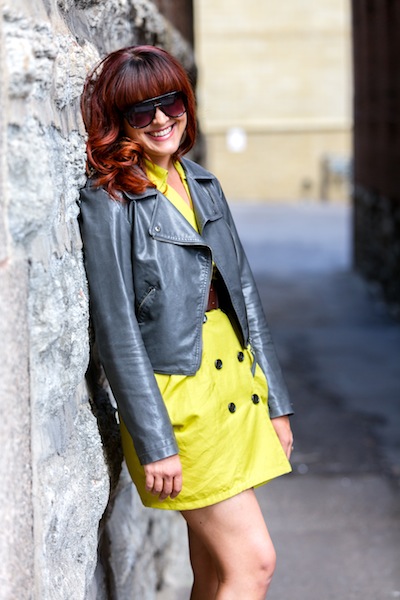 10 totally true facts about me …
1. I was born in Los Angeles on December 10th at exactly 7:11pm. Which means I'm a Sagittarius. And how!

2. I was named after the heroine of a rarely-performed opera.

3. According to family lore, my very first word was "hot." I was pointing at a boiling pot of water, not a person. In case you were wondering.

4. In my younger, carefree days, I earned my helicopter pilot's license and completed half of a massage therapy certification. Turns out — I'm good at flying, but terrified of hairy backs.

5. Prior to launching my own business, I worked at American Public Media, the largest owner + operator of public radio stations in the nation. I had a total dream job — for somebody else. Quitting was the best + scariest thing I ever did.

6. I've been practicing yoga — with varying degrees of devotion — since I was 15 years old. It's a perpetual reminder that there's no substitute for showing up + doing the work.

7. Just after my 21st birthday, I won a drag king contest at a dive bar in New Zealand — earning the princely sum of $100, and a short-lived avalanche of fame + glory. (My drag name was "Felix Cameron." Classy, right?)

8. I once got in trouble for selling drawings of unicorns to schoolmates, in third grade. In my defense: I was just responding to market demand!

9. Many years ago, I sold a Regency Era smut fiction series to an Australian erotica magazine. Google hard enough, and you'll find it.

10. I genuinely believe that every single human being has a fascinating story to tell. You've just got to ask the right questions.

Here are 10 of my most-popular pieces of all time …

Enjoy to the max!
1. 100 questions to inspire rapid self-discovery.
2. 5 ways to write a blow-your-mind manifesto.
3. How to survive when everything sucks.
4. 50 ways to be ridiculously, shockingly generous.
5. 88 pieces of fill-in-the-blank blog inspiration.
6. How to attract people you can count on — in life, love + business.
7. How to say "no" to everything ever.
8. The "it's not rocket science" approach to making your dreams come true.
9. How to be sharp, eloquent + witty — on command!
10. Read this when you can't remember what you do, why you do it — or how to talk about it.
XO.