Ooh! What is it? A bundle from a faraway land? A gift from a long-lost friend? That book you forgot you ordered?
And you tear it open with glee, before you've even unlocked your front door?
Imagine feeling that way about email.
Think that sounds impossible?
Just. You. Wait.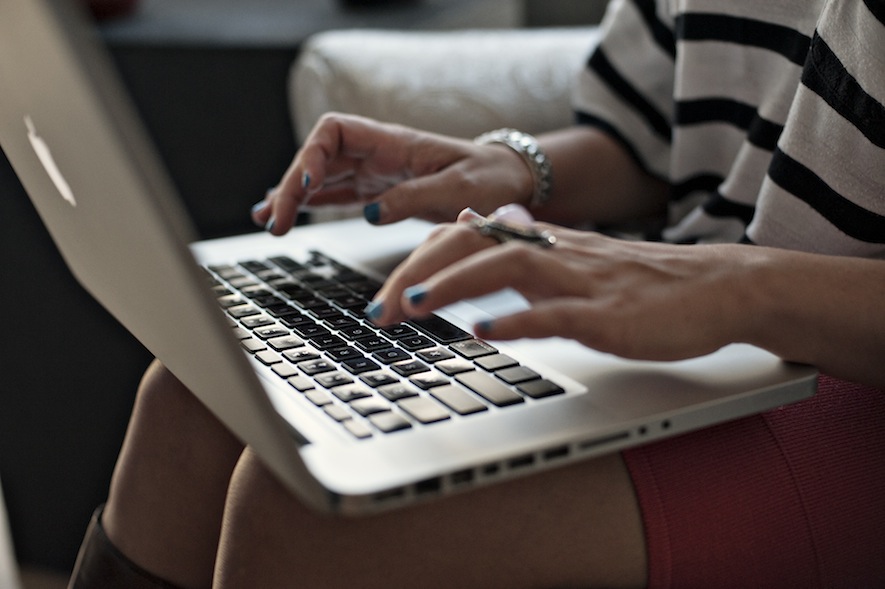 Here's the crazy truth:

You already write a novel's worth of emails every year.
Like it or not, emails are taking up an extraordinary amount of your time, focus + creative energy.
And when something takes up that much of your day, you might as well learn to enjoy it — and get really, really good at it.
Introducing …

I ❤ EMAIL: the fun email course that makes email more fun.
(of course.)
I ❤ EMAIL is a course for anyone who's ever thought …
"Frack! Emails are ruining my life!"
"Ugh! Responding to everyone takes so much time!"
"Blarf! My emails are so boring! No wonder I'm not getting the kind of reaction I want."
It's a series of 12 simple writing experiments — delivered to you (how else?) via email — once a day, for 12 days.
And it's all about taking your daily email routine from drudgery to pure delight.

The big, delicious twist?
I ❤ EMAIL isn't just about making email more fun — it's about showing you how to write emails that actually leave the world in better condition than you found it.
Sound lofty + visionary? It is.
Sound intriguing? Good!
Read on …
---
Here's what you'll learn, on each day:
Day 1. How to write the ultimate vacation auto-responder. (And why it's not just for "vacations…")
Day 2. How to write emails that are very, very persuasive. (And inspiring.)
Day 3. How to write super-short emails that inspire cries of relief + delight.
Day 4. How to write emails faster than you ever thought possible.
Day 5. How to NOT write emails. (But still respond to almost-everybody in your inbox.)
Day 6. How to sign-off your emails with style (and trigger a BIG smile.)
Day 7. How to write scripts + templates to deal with common scenarios.
Day 8. How to write emails that captivate very, very busy people's attention.
Day 9. How to write extremely kind + patient emails (even when you're extremely annoyed.)
Day 10. How to change your whole attitude about email (so that it doesn't rule your life.)
Day 11. How to write emails that create world peace. (No biggie.)
Day 12. How to GET fewer emails, by teaching people how to treat you.
---
I created I ❤ EMAIL because I'm tired of hearing people whine about email. (Especially, um, me.)
I've gathered up some of my best material — from oh-so popular blog posts, online classes + sold-out writing workshops — to create this little bundle of joy.
I think you're going to loooooove it.
And I'd love to have you in it.

The next round of I ❤ EMAIL runs from January 10th – 22nd, 2014.
And just like last time, it's a 100% fundraiser for one of my favorite non-profits: Women's Earth Alliance.
I'm thrilled to help shower them with cash + sweet lovin', once again. (And they're pretty jazzed about it, too.)
---

"Can sending out an email really change the world? Here at Women's Earth Alliance, we think so.
By taking Alexandra's course, you'll be creating a beautiful ripple in TWO ways.
You'll learn how to infuse every email you write with more clarity + positivity. And we'll put your donations right to work, supporting grassroots women leaders worldwide as they generate on-the-ground solutions to some of our biggest ecological problems.
Everybody wins — you, us, the planet, and our global network of women allies. Thank you for joining I ❤ EMAIL!"
–The Women's Earth Alliance Team (one of The Huffington Post's Top 50 Non-Profits to Support)
---
Ready to fall head-over-heels in love with your inbox — and support a worthy cause?
That's excellent! Except … registration for the January 2014 round of I ❤ EMAIL is now closed.
We had over 350 sign-ups … with a beautiful avalanche of donations for our friends at Women's Earth Alliance.
THANK YOU!
If you missed the inbox-boat, don't fret. I'll absolutely run this course again.
Hop on my mailing list to stay in the loop. Or, just watch this space.
---
Here's to hundreds + thousands of happy + helpful emails.
From you. To you. Because of you.
See you in your inbox!
xo.
---
Praise for my wordsmithery…

"At a meeting at Random House HQ — with Franz to my right — I told my publishing power-team, 'If anything, uh, happens to me, Alexandra can finish writing the book.' I trust her that much. And I know her talent, that well."
—Danielle LaPorte, Author of The Fire Starter Sessions + Creator of Your Big Beautiful Book Plan

"Alexandra Franzen is a GENIUS. I consider her one-in-a-million level talent with a killer combination of speed, intelligence, wit, charm and a gigantic heart."
—Marie Forleo, CEO + Founder of MarieTV + B-School | Bestselling author of Make Every Man Want You

"Alex teaches with heart, humor and a storyteller's dramatic flair. She knows so much about how to write brilliantly, cogently – about matching elegance of structure and form with depth and clarity of content.
And she has the rare ability of a true teacher to bring out the very best in her students. Her experiential, interactive exercises are perfectly designed to lead you to discover and express your own truth, in your own essential voice.
Embrace every opportunity to learn from her. You'll be so very glad you did!"
—Hiro Boga, Intuitive Business Strategist | Creator of Become Your Own Business Adviser