Press
I'm available for interviews, teaching + speaking engagements and publishing projects.
Please direct all publicity inquiries to [email protected].
For literary projects, please contact [email protected].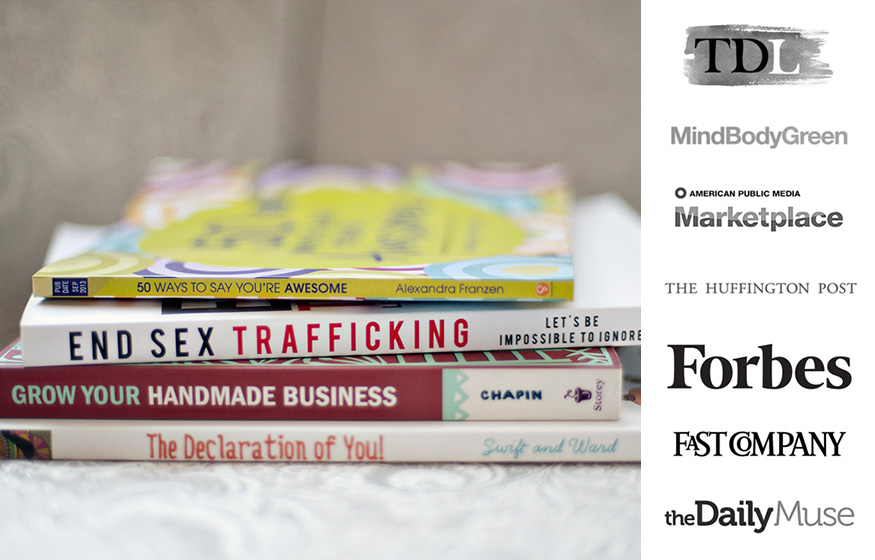 Official bio
When it comes to being a better writer — and a better human being — Alexandra Franzen has a ten-word philosophy:
Start with love. Keep it simple. You are not confused.
Alexandra's refreshingly simple communication tips have been featured on Fast Company, Forbes, The Daily Love, The Daily Muse, MediaBistro, MindBodyGreen and The Huffington Post — and on radio programs from coast to coast.
She's been called a "prodigious talent" and "an astonishingly gifted teacher" with the ability to "describe the indescribable" — distilling stories + information with a "killer combination of speed, intelligence, wit, charm and a gigantic heart."
Her two books — 50 Ways To Say You're Awesome (Sourcebooks) and Our Q+A A Day: A 3-Year Journal For 2 People (Potter Style) have inspired thousands of people to say "thank you" and "I love you," a lot more often.
With a sold-out workshop series, a client docket booked up to one year in advance and appreciative fans from Sydney to San Diego, Alexandra is proving that business can be simple, writing can be profitable + any creative dream that you have is absolutely possible.
---
Book trailer
---
Workshop trailer
---
Popular interview topics
: How to get less email by teaching people how to treat you.
: How to convey big, complex ideas in just a few eloquent lines.
: How to break a commitment — without ruining your reputation.
: How to deliver a firm, loving NO — even when people keep pushing.
: How to write an email that will catch a very busy person's attention. (And change your whole career.)
: How to craft a powerful personal introduction — even if you're "in between" jobs, careers or identities.
: Playful ice-breakers and conversation-starters for the dinner table — or your next professional meet-up.
: How to deliver an unforgettable compliment — and why we all need to express our affection more often.
: How to place gratitude + generosity at the center of everything you write + say — and change the world through your words.
---
Need a quick intro? Use this:
Alexandra Franzen wants to live in a world where emails are short, love letters are brave and every "thank you" note is scribbled by hand.
Her refreshingly simple tips on writing, productivity + creativity (and everyday woes — like inbox-clearing) have been featured on Fast Company, Forbes, The Daily Love, The Huffington Post — and on radio programs from coast to coast.
Get free workbooks + scripts to unlock your inner wordsmith at: AlexandraFranzen.com.
---
Promotional photos
Right-click your favorite + choose "save link as" to download a big, high-resolution version.
All headshots by Leslie Plesser. All book photos by Thea Coughlin.

---