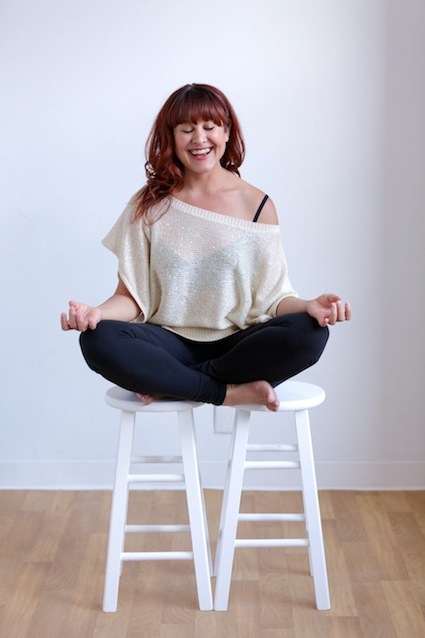 In 10 days, I'll be teaching a one-of-a-kind writing & marketing workshop, especially for yoga teachers.
And guess who else is teaching with me? You may've seen her in VOGUE magazine. That's right. It's Anna Guest-Jelley, founder of Curvy Yoga. Whaaat? I know. This is my real life.
But enough about that awesomeness. Onto the business o' the day … filling. yo'. yoga. classes. like. crazy.
Now, before all you non-yogi-people go scuffling off in a storm cloud of fury: yes, these tips are geared towards yoga teachers & studio owners, but they're applicable for just about every entrepreneur under the sun.
So don't scoot away, just yet. Just swap out the word "yoga" for "your-passion-here." And … proceed!

7 ludicrously-fun ways to promote your classes:
❤ Send an email blast to your friends & family …

… but instead of making a Big, Resentment-Inducing Request, just invite them to a yoga-party. No biggie.
"Amigos! You know I'm completely obsessed with yoga. And you might be wondering, uh, like, what's the big deal?
Well … I'd love to show you. Saturday night. 7pm. Bring $10 and a bottle of wine (for later). No supernatural-stretchiness required."
❤ Post an announcement. But make it a Love Letter.

Writing an announcement about your spring line-up of classes? Screw the sales pitch and just write a genuine, straight-from-the-heart Love Letter. (Here's how it's done.)
Waaay more effective. And waaay more fun.
❤ Celebrate world premieres, anniversaries & milestones!

Teaching a new class for the very first time? Or maybe the 52nd, 100th or 365th time? You've got a perfect excuse to do something memorable & marvelous. It's a special occasion, after all!
Live music? Tea? Snacks? Surprise guests? A poetry jam? Fashion show? Costume contest? Photo shoot? Tastefully-draped nudity? Sky's the limit!
❤ Pin up posters & flyers at local businesses.

Or … better yet: design a digital poster in just-two-clicks using ReciteThis.com.
You can transform a personal mantra or quote ("I like sweat!" or "The teacher in me is freakin' stoked about the teacher in you!") into an inspiring, Pinterest-friendly design.
❤ Do yoga in non-yogi places.

That grassy park next to the lake? The public square in the center of town? Inside your local library, between the bookshelves?
In a not-so-crowded nightclub, on the dance floor?
With a little advance planning (and in some cases, written permission) you can stage a yoga class just about anywhere. The more people who stop & gawk & snap photos & tweet 'em, the better.
Keep postcards handy — you're recruiting new students, guerilla-style!
❤ Pitch a story to the local media.

Just remember: look for an angle that makes your class timely & newsworthy.
: Is it a fresh spin on yoga that people haven't seen before?
: Are you doing a class or event that's tied into an upcoming holiday?
: Does your class "solve a problem" that's on everyone's minds, right now? (Like: Boosting your immune system for flu season, de-stressing your body & mind before tax-time, staying positive through the tail-end of winter.)
: Is there a clever way you can use cultural trends to reframe your class? (Like: "Tantric yoga for couples: better than Fifty Shades of Grey?")
❤ Create a rewards program for superstar students.

Chocolate works. Always. Or, try somethin' like …
: Take 10 classes in 10 weeks, and get a free hug! (And a copy of my new e-book!)
: Bring a friend to class, and receive 3 free classes when they sign up for a month-long package.
: It's our one-year yoga-versary! Have a chai latte. On me.

XO.

P.S. If these tips got you all twisted up in a bundle of excitement (like Eagle Pose, but inside your BRAIN) … you're going to love my upcoming workshop for yoga teachers: YORIGINALITY.
It's a virtual experience — you can sign up & join in from anywhere on the planet. No crazy-pressure, butttt … early-bird registration ends on Friday. There. I said it. Have at it.


Your turn, yogis! How do you fill your classes — and keep students comin' back for more?