Confession: I loathe (most) mantras.
I'm absolute rubbish at meditating. I'm allergic to chanting. And it will be a frosty day in Hell before you find me gazing fondly at myself in the mirror, expounding the myriad ways that "I love & accept myself." (No hatin'. Just not my jam.)
That being said, I wholeheartedly believe in the power of language, as a life & career-shaping device.
I believe we can change our entire reality — quite literally, in seconds — by choosing new words to describe it.
And I'm especially interested in the ways we can use words to conquer everyday obstacles —
especially intangible, emotional ones. Like fear, anxiety, indecision & procrastination.
A few days ago, I asked my Twitter comrades a question:
"When do you feel seriously shy, scared & invisible?"
The responses were vulnerable … and fascinating. And I've written a series of empowering mantras — with minimal woo-woo jargon – for everyone to try.
Print them out. Say them aloud. Pluck & choose phrases that resonate.
No matter what — I promise I won't make you meditate.
"I feel SHY, SCARED & INVISIBLE …
… when I get the first review of my written work — receiving feedback is tough!"
TRY THIS:
"I'm grateful for appraisal & criticism — but ultimately, this is my creation. I get to choose what to keep, what to change, and what to release into the world. Every time."
… when my finger hovers over the send / post / release to the universe button. I feel naked at that point, for all to see."
TRY THIS:
"The world is richer & fuller when I share my stories. Publishing my truth is an act of service — even if it only affects one other person."
… when I do interviews and public speaking. I still get the shakes…"
TRY THIS:
"I don't have to tap dance, do backflips or dive from a high board. I just have to show up & entertain / inspire / inform a few people. I know my stuff, and I'm a total pro. I've got this."
… when people diminish my work by pretending it's easy to be a dancer or a writer, that anyone could do it, or that I got lucky."
TRY THIS:
"I've worked hard for my success — and I know what it took to get here. I can't control anybody else's reactions to my life & career. It would be exhausting to try. And frankly, I've got cooler things to do."
… when I have to show up at private art viewings. I never know how to talk to people."
TRY THIS:
"This art viewing is a celebration of my work — and I'm the gracious host. I don't have to tell my life story to each & every guest. As long as everyone feels welcome, I've done my job."
… when I'm not sure of the 'rules' of the situation. What do I do?! What do I wear?! Am I being an ass?!"
TRY THIS:
"I am inherently charming, memorable & delightful. I don't need to memorize any rules of engagement — I just need to smile & BE. Millions of people dream of being flexible & free-wheeling, like ME!"
… when I have to connect with people virtually — because I don't really know 'how'. I really like connecting in person."
TRY THIS:
"I am engaging, vibrant & wildly valuable. I don't have to change my identity just because I'm communicating online. I let my color, charisma & creativity shine with ease — no matter the medium."
And now, a brief word from our sponSOAR . . .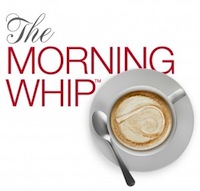 Speaking of wobbly confidence (or rather, the polar opposite) … Erika Lyremark's signature program, THE MORNING WHIP, starts bright 'n early on September 9th, 2012.
Erika believes that you can't run a business without ravishing, red carpet confidence.
It's the difference between promenading down Main Street in bejeweled Louboutins … and shuffling down a side-street with your eyes superglued to the floor.
If lack of confidence is holding you back from (a) hitting the publish button (b) launching the product (c) approaching the mentor (d) insert crucial business action, here, Erika's MORNING WHIP program is not to be missed.
Grab a spot before the course fills up the brim (it always does) … and add some grit, gumption & gallantry to your daily grind.