Do you have a supernatural talent?
Something that comes so effortlessly to you, it feels almost . . . freakish?
Something that others applaud, and admire? Or at the very least — recognize?
What if your gift isn't what you think?
I recently devoured Kristin Cashore's debut novel, GRACELING, like a great white shark at a chum-fueled feeding frenzy.
471 pages of swashbuckling sword-fighting, rrrromantic tension, and moral dilemmas that would leave The NY Times Ethicist columnist in a royal pickle. In a word? Mesmerizing.
But this isn't a book review (well, not completely) or a nudge to read the novel (though you should).
GRACELING stirred up a provocative question . . . one that I haven't been able to shake off, for weeks.
And when art burrows into your heart & refuses to budge, it's worth exploration.
First, let me set the stage . . .
Imagine a world where certain people are 'Graced' with miraculous abilities — talents that defy conventional logic. No one can tell you what your Grace is. Could be cake baking or tree climbing. Could be memorization or medicine. It simply emerges, without warning — and it's usually unmistakable.
For Katsa, the heroine of GRACELING, being Graced feels like more of a curse. You see, Katsa's Grace is killing. She can slaughter legions of soldiers with her bare hands, and is widely renowned (and feared) as the king's right-hand assassin. She hates her Grace, hates her blood-soaked career, and hates the fact that her vicious talent defines her identity.
But after leaving the king's court (SPOILER ALERT!) she discovers that her Grace isn't killing, after all — it's survival. And with that subtle shift in self-awareness, she is liberated. She is free. Possibilities abound. And she begins a new life — with a foxy mind-reading prince (but that's another story).
Back to reality. I believe everyone is Graced with something —
and the whole point of life is to discover & use your Grace to the fullest.
I used to think my Grace was writing. It seems obvious. After all, I've always had an unusual way with words. I pun. I rhyme. I lilt. I chime. I've written plays & poems, miniature operettas & manifestos, webcopy & sales copy & radio soundbites. I wax rhapsodic, for a living.
Writing is a wonderful Grace, but in some ways, it feels finite.
Limited to the page — or the screen.
But maybe, like Katsa, my Grace isn't what it immediately appears to be — but something several fathoms deeper. Maybe it's not writing, but self-expression. Lyricism. Persuasion. Or . . . pure inspiration.
Your Grace might seem obvious — coaching! singing! cooking! —
but maybe it's not what you think.
Maybe if you dig a little deeper, you'll find the essence & origin of your talents. The true Grace, beneath your public persona.
I promised a provocative question.
But let's go with two:
What's your Grace?
And — are you sure?
And now, a brief word from our sponSOAR . . .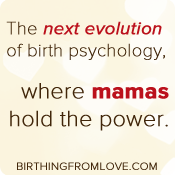 If I had to hazard a guess, I'd say that Gemma Stone is Graced with compassion.
As a Psychologist & Life Coach, she blends the science of psychology with the power of spirituality to help you heal the past, love the present, and light up the future.
She's the creator of BIRTHING FROM LOVE: a multi-media extravaganza for mommas-to-be.
She also has one of the most beautiful smiles I've ever seen.
(See what I mean?)
BIRTHING FROM LOVE is designed to help women get psychologically prepared for birth, and have a peaceful, positive & powerful experience — wherever & however you choose to bring your baby into the world.
Want all the details? Swing over here.
Want to eeeeeease into the program? Jump on the BIRTHING FROM LOVE List, and get to know Gemma better. Word on the street is you'll get a 'thank you' treat, just for joining.
Ready to buy? Bless your lucky stars, because BIRTHING FROM LOVE is a pay-what-you-can offering. Gemma explains why, right here.
And — sorry, can't help myself — have a profoundly Graceful birth.