Earlier this week, I asked a deceptively simple question:
"What are you BORED of?"
Your answers came a-crashin' in. And they're anything but boring.
Since we're on the subject of soul-crushing boredom (and its polar opposite: euphoric enthusiasm!) I'd like to offer an inspiring treat:

25 Thoroughly Un-Boring Things To Do, Be, Taste & Try.

❤ Take a digital sabbatical. It's time. And here's how to do it. But before you do . . .
❤ Buy a digital copy of EAT AWESOME: A regular person's guide to plant-based whole foods (it's 5 bucks) . . .
❤ And then be even awesomer, like EAT AWESOME's creator-dude, Paul Jarvis, and adopt a llama from a Buddhist animal sanctuary.
❤ Watch this ZUMBA fitness dance class video. Kindly observe the elderly gentleman in the back row, going for broke. He is my hero. (Blessings to Laura Wagner for sharing this gem, with me.)
❤ Find a puppy. Put it next to a small soda can. Take a picture.
❤ Be over-the-top luxurious — even if it's just once in your bloody lifetime. (Yes, I turn slightly British when I'm feeling emphatic.)
❤ Have your dessert after breakfast, instead of at the very end of the day. Oprah said so!
❤ Tell the absolute truth for a whole day.
❤ Kill your Facebook account. No, really. Just get rid of it. You rebel!
❤ Instead of calling your mom next Sunday, show up at her house with a potted bonsai tree & a brand-new bottle of her signature scent. Bonus points if your mom lives in another time zone.
❤ Model your exercise regime after a beloved (and badass) film & TV heroine! Because, c'mon: would you rather do ordinary pushups — or G.I. JANE pushups?
❤ Go to a completely bonkers, stadium-style POP CONCERT. The more hormone-addled teeny-boppers in the audience, the better.
❤ Make your own vegan toothpaste. Just 'cause you can.
❤ Kill your vision board — if it's not working for you. Inspiration is not one size fits all. Notable quotes don't rev everyone's engines. Glossy photos of mountains & temples & twirling yogis do not guarantee motivation.
❤ Watch every David Attenborough documentary ever made.
❤ Make a list of 100 people you want to have lunch with before you die, like Nicole Antoinette. Then actually ask those people to lunch. They'll be fabulously flattered. And probably say YES.
❤ Stop waiting for the perfect opportunity to teach, speak or lead your first workshop, and just throw your own damn party.
Like Tania & Deanna from The Spark Retreat.
❤ Two words: neon shoelaces.
❤ Three words: sophisticated side ponytail.
❤ Instead of buying a trashy magazine from your own country, get one from a faraway land! I recently picked up a copy of the UK's TATLER, and it was a defining moment.
❤ Ask the three Most Boring People You Know to tell you a secret. Prepare to be uh-mazed.
❤ Ask the most elderly person you know to recommend a few bands for your summer playlist. Prepare for a trans-generational groovefest.
❤ Concoct your own lavender-infused soda, like the lovely Lauryl Lane.
❤ Read everything on my Official Summer Reading List. Especially the smutty stuff.
❤ Get vibrantly clear on what makes you (beyond) valuable. Craft a magnificent personal introduction. Stop pretending that your story is dull, dry or forgettable (please — we all know better). Be the antithesis of boring.
And now, a brief word from our sponSOAR . . .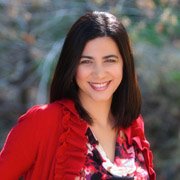 I'm absolutely fascinated by the intricacies of human relationships — and I have unyielding respect for people who've devoted their lives to helping people make love & partnership work. And so, when Jackie VanCampen asked to become one of my sponSOARs, I had to say YES.
Jackie is a relationship facilitator who helps women overcome abandonment issues & other emotional headgunk, and create lasting and beautiful relationships. She's navigated her own share of heartbreak, and has worked hard to carve out a life with the partner she adores. Happy endings? Never boring.
Meet Jackie & learn more about her approach to relationship facilitation, at WiseHeartWithin.com.