The Internet has been getting a nasty rap, lately.
The Atlantic recently featured a disturbing cover story, elucidating the many ways that Facebook is making us isolated, disconnected, and chronically lonely.
The American Journal of Psychiatry is calling for Internet addiction to be recognized as a legitimate disorder.
And Stanford University researchers say that watching our social media buddies & beloved bloggers dish out all the happy details of their exceptionally rich & fulfilling lives is making us feel lousy. REALLY lousy.
I'll admit it — my appreciation for online merriment has been waning, too.
I rarely read blogs — unless I'm doing specific research for a project, or a client.
I tweet while I feel like it — and then scuttle away.
I haven't had a Facebook account in years.
I can physically feel my mental equilibrium plummet, on days when I've had too much screen time.
And on the very-rare occasions that I see a mean-spirited tweet or comment directed at me,
I go into a low-grade panic attack for up to 12 hours.
I get it. The Internet can be an icky place — self-esteem-cracking yet bewilderingly addictive, all in the span of one tappity-click.
But then, just when I'm ready to pull a full-on Henry David Thoreau & carve out a pleasant little life for myself in the belly of a hollowed-out tree, things like this happen: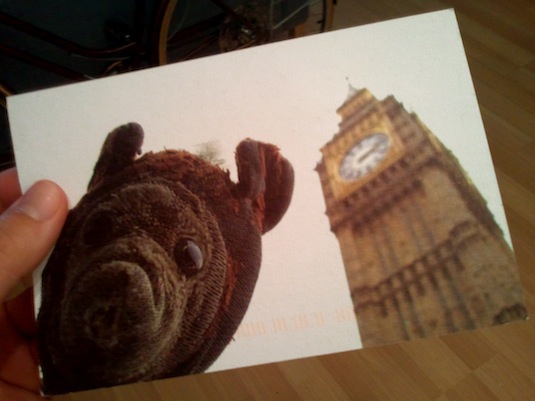 This is a postcard from a stuffed bear named Andy. Or — and this is just my personal suspicion — possibly from Andy's owner, Kate Sedrowski.
Andy grew up in Michigan, and has lived in Boston, Los Angeles, San Antonio & Chicago. He has traveled to London, and across the US and Canada. Word on the street is, Andy prefers Canada
(smart bear).
Andy is a fan of my blog. Particularly my post titled THIS is what's possible.
And when I get postcards from traveling bears like Andy — and / or ladies like Kate — it reminds me why I do what I do, why I write what I write, and why the Internet is, in fact, pretty fucking awesome.

Because of the Internet …
I found my very first career coach, Michelle Ward — the woman who opened my eyes to the world of digital entrepreneurship, and helped me spark my own business.

Because of the Internet …
I've met some of my dearest friends & creative partners — like Dyana Valentine, Danielle LaPorte, Hiro Boga, Aurora Armijo, Sarah Von Bargen, and Erika Lyremark.

Because of the Internet …
I met my beautiful, black-metal-music-making, foot-massage-giving, socialist-leaning, lactose-intolerant, thoroughly loving boyfriend.

Because of the Internet …
I can watch every single episode of Parks & Recreation, legally & immediately. Not that I would.
Except I already did.

Because of the Internet …
I can work with uh-mazing clients from Glasgow to Sydney to NYC to Santa Fe, at the touch of a button, whilst donning a loose-fitting kimono.

Because of the Internet …
My words can reach thousands of people every month, from 5 continents & 98 countries.
Which is a lot more people than I'd reach if I lived in a tree with spotty Wifi access, I'd wager.

Because of the Internet …
I get to be the art director of my life. And my life is abundantly blessed.

So yeah, I'd like to take a moment of silence (or cartwheels, or freak-dancing, or ceremonial cocktail-shaking) to say THANK YOU, Internet.
And don't listen to those mean sociologists. It's not your fault you're so addictively awesome.
It's our problem. We've got baggage. We're working on it.
And hey — how has the Internet changed YOUR life, for the better?
Do tell, digital lovebug.