So there I was, lying in bed, with my favorite unofficial life coach.
My boyfriend.
I was venting, whining & moaning (sexy, right?) about … wait for it … web traffic.
"I'm just worried that if I pour a whole ton of time & effort into a new offering — you know, a really freaky-weird poetry collection, or program, or book — something's that not about marketing & copywriting & communication — something about self-discovery, reinvention, you know, ART man! — that it's just gonna flop. That nobody will want it. I just don't have the mailing list numbers, you know?"
He turns to me, gravely.
"Alex . . . are you worried that your Internet penis is too small?"
Yes. Why yes, I am.
Here's the thing. I've seen the analytics. I know my metrics. 100,000 blog visitors, in 2-ish years.
Mailing list approaching 2,000. Twitter peeps over 4,000. They seem like juicy, dazzling numbers.
But comparatively speaking? Teeny tiny Internet penis.
And yeah, yeah, I know. It's not about size, it's about the motion of the ocean. But really, I want numbers. There. I said it.
And then again . . .
"Maybe you don't need the whole world to love you, you know?
Maybe you just need one person."
– Kermit the Frog
Oh, Kermie. Too right.
I know — in my hut (that's my heart + gut) — that my words, my ideas & my particular flavor of inspiration are going to reach whoever they're meant to reach. That ultimately, hustle-mongering & guest-blogging & opt-in freebie-ing & SEO-crunching aside — my digital fame, or lack thereof?
It's largely, wildly outside my control.
People will respond, or they won't. People will buy, with delight, or they won't. People will tweet-share-like-love-validate-ooh-la-la-huggy-smoosh me, or they won't.
Should any of those will-they-or-won't-theys? keep me from creating what I feel called to serve up?
Let's not even dignify that question with a response. OK, let's. FUCK. NO.
So maybe I'm OK with just one person's fanatical love & approval. Say, my own.
And for what it's worth, my boyfriend thinks my Internet penis is juuuust fine.
Thank you & goodnight.
And now, a brief word from our sponSOAR . . .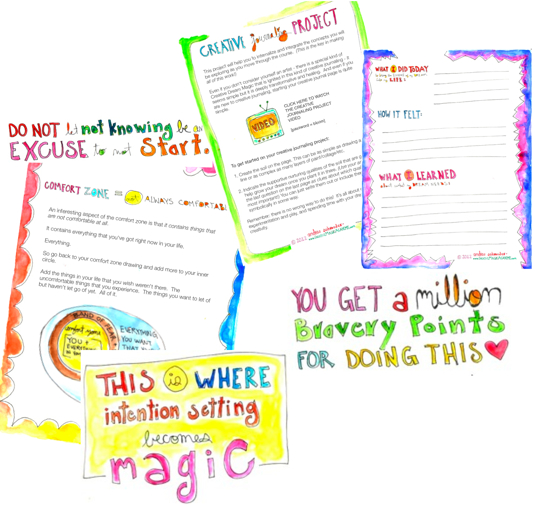 Andrea Schroeder believes — and I swear, I did not plan this — that "your dream is just the right size."
Ms. Schroeder also believes that you don't need gazillions of dollars, a wall of fancy degrees, or wizard-like powers (other than the ones you already have!) to make your dream come true.
You just need a space to nurture and accelerate your inkling. You need guidance and the right tools.
You need (drrrrrrumroll dun dah dah dah!) . . . a Creative Dream Incubator.
(Good thing it exists!)
The Creative Dream Incubator is a self-paced wish-fulfillment master class to help you GROW YOUR DREAM to completion, with Andrea's rainbow pixie sizzle-blend of affirmations & meditations, scribbling & scrawling, stomping & bawling, and general madness (of the very highest order).
No more preamble. Simply: go git 'er.