Everyone has a natural CREATIVE RHYTHM. And once you nail it down, your genius just ROLLS.

I'm a long-stride short-burst immersion junkie. I like to cover major ground in preposterously short amounts of time (case in point). It's how my brain likes to play. It's how my adrenaline likes to flow. It's how I get my very best work done. And frankly, I'm not interested in working any other way. Whoa. Just said that out loud.
Once I discovered my creative rhythm, and started to design my life & business in accordance with it — instead of against it — my entire world upleveled. My income tripled, in the span of a year — and my whole 'tude about affluence shifted. My client docket filled to max capacity. My instincts grew sharper. I even slept better at night — no more insomnia, loose-end anxiety or squicky stomach squirming. Swear to Buddha, even my skin looks better.

Syncing up with my creative rhythm was the difference between fighting the current in a battered canoe . . . and cruising downstream in a luxury liferaft.

Want to discover YOUR creative rhythm — and start making art to the tickity-tock of your inner clock? Read on . . .

1 :: Track your I-can't-believe-I-get-paid-for-this moments.

Pay attention to when & where you hit The Zone — that laser-lucid space where work feels like play, ideas flow without effort, and you're actively in Love with your work. Is it happening during quick-burst, rapid-fire conversations? During leisurely, loose-deadline alone-time? First thing in the morning? At sunset? At midnight? During spontaneous sabbaticals? Or pre-booked, set-in-stone office hours?
Moments of ease, fluidity & sensational productivity are major clues to your creative rhythm. Take note.

2 :: Be attentive to resentment.

When you scan your calendar for the week, which of your activities, commitments & appointments trigger a visceral sense of resentment? Phone calls? Email blocks? In-person dates? Check-ins & follow-ups? Guuuueeess what? Whatever they are, they're (almost certainly) in direct opposition with your creative rhythm — either the timing is wrong, the medium is awry, or the item is Lame-O, from the get-go.
Aim for a resentment-free schedule, and you'll be ten strides closer to your ideal creative rhythm.

3 :: Nose around through your praise.

Do people consistently praise you for your holy-wow efficiency & lightning-fast turnaround time? Or do they praise your patience, presence & even-keeled THEREness, over the long, looooong haul? Maybe folks are astonished by your spookily serendipitous, just-in-the-nick-of-time insights. Or maybe they appreciate how you show up like the Queen's Guard — on time, suited up, without fail.
Testimonials, feedback & casual, off-the-cuff praise hold even more clues about your natural creative rhythm. Listen in. And be curious.

Your challenge, should you choose to accept it:

Pay close attention to the times that you SHINE, without breaking a sweat. Pick up on the timing — and tender, tiny details.
Above all, keep it real. When it comes right down to it . . .

How do YOU want to move through the world?
And now, a brief word from our sponSOAR . . .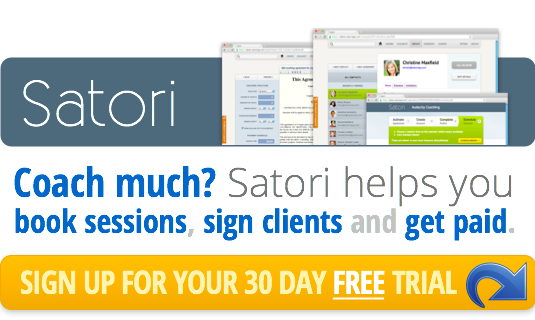 No matter what your creative rhythm might be, I'm willing to bet that tracking client sessions & syncing up time zones & triple-checking invoices is prrrrrobably not at the tippy-top of your Joy List.
Introducing: Satori. This human-friendly online tool is designed especially for coaches (yah!) who want 'booking 'n billing' to feel like an elegant, branded part of the coaching experience . . . instead of a clunky side-dealio.
To sum this sweetness up:
: Satori syncs up with your iCal, Outlook, BusyCal or Google Calendar.
: Fans rave, rave, rave.
: You can try it for free, for a month.
: Oh, and the Satori manifesto? Got me a little misty-eyed. (And I'm not even a coach. I just play one on TV.)
Take Satori for a spin. And here's to discovering your easiest, grooviest rhythm.