Pop quiz, people:
How do you drop an atom bomb of sudden, unexpected (and quite possibly, undesirable) information on someone you care about — without behaving like a cruel, dispassionate ogre?
AND!
If you're the unfortunate recipient of the aforementioned atom bomb, how do you respond with compassion — instead of setting off a furious chain reaction?
To answer incendiary questions like these, we're going to need a little professional help.
Enter: Tina Tessina, Ph.D, L.M.F.T. Psychotherapist, love & marriage counselor, bestselling author of eleven (!) books, and a frequent speaker, teacher & radio darling.
Ah, sweet serendipity.
I discovered Dr. Tessina about 8 years ago, whilst navigating the complexities (read: horrific, gut-wrenching, time-to-flee-the-country! END) of my first love affair.
I've evolved considerably since then, but I (still) love Tina's all-heart, no drama approach to communication, intimacy and Grown-Up Love.
And today, we're bringing you our combined communication powers . . . so that the next time you drop (or receive) a BOMB — in business or in love — you can respond like a sagacious adult, not a reactionary toddler. Ready? Read on . . .
If you're the BOMB RECEIVER . . .
STEP 1: DO. NOT. REACT.
When the bomb drops, STOP. FREEZE. DO. NOT. REACT. Your body is raging with agitated neurotransmitters. You're in full-force fight or flight mode, and you're (literally) temporarily insane. You need to buy some time, to let your body recalibrate.
Tell your partner:
"You've given me a lot to think about. I need a little time to understand this. Let's reconnect in (ten minutes / an hour / tomorrow / after I've spoken to my spirit guide). I'll have some questions & thoughts, then."
STEP 2: BE CURIOUS.
Once your body is back in intellectual reasoning mode, it's time to ask questions — lots of 'em. This is your opportunity to gather the information that you need to make a decision . . . and respond to the BOMB.
Try asking:
"Why do you want this change?" "What brought this up?" "Have I upset you?"
AND! (most importantly)
"Is your mind entirely made up, or are you open to exploring other possibilities?"
STEP 3: AVOID (the dreaded) COMPROMISE.
By now, you've discovered the WHY behind your partner's explosive declaration. So, it's time to explore alternative solutions . . . with your combined creative powers.
Make a brainstorm-a-licious list of new options & what-ifs. Suspend logic (for a moment).
Be thoroughly ridiculous. Don't scratch anything out . . . just yet.
BUT . . . be careful to avoid solutions that necessitate compromise ("I'm giving up something I cherish, so that YOU can get what you want").
Aim, instead, for cooperation ("I want you AND me to both get what we want.")
Compromise inevitably leads to resentment.
Cooperation, while not always 'easy', leads to much happier places.
NO MATTER WHAT . . .
Whether you're the bomb dropper or the bomb dropee, remember that your first reaction to dramatic upheaval is generally your most explosive, your most childlike, and your most hurtful. Hit pause. Curl up. Cool down. Then respond . . . with as much compassion as you can muster.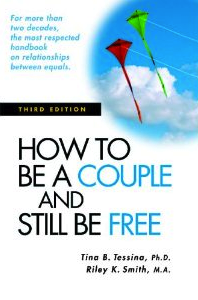 Now: what if you're on the other side of the explosion — and you're the one DROPPING the bomb?
Head over to Tina Tessina's blog to find a trio of communication tips for those times when you're the one dropping the big (and not-so-fun) announcement.
And for more insights on creative problem-solving in relationships — and cooperation vs. compromise — visit TinaTessina.com, and grab a copy of Dr. T's book, How To Be A Couple & Still Be Free.