"Well, Ms. Franzen. We've figured out why your trackpad is sticking. There seems to be a great deal of . . . residue, inside your laptop. Dark red and brown. I'd guess red wine and coffee."
Oh. Really? Hahaha. Me? Using my most prized technological tool as a $2,000 coaster?
Surely you're mistaken, my good sir. I have no recollection of the aforementioned spillage incidents.
No. Seriously. Like, NO recollection. That's the scary part. It's like I wasn't . . . there.
I'm not a drug addict, nor do I suffer from cranial damage. And yet, I have blackouts. Episodes where mindfulness eludes me — replaced, apparently, by searing moments of where-the-fuck-was-I?fulness.
I've been doing some math, see. In my BRAIN. Let's assume you & I are going to be blessed with gracious longevity, and live for 100 years. We spend about 8 hours a night — or 1/3 of our lives — asleep. That's 33 years out of 100. Zonked. Out of commission. That only leaves 67 years of waking, conscious life. That's nothing. The blink of an eye. OK, a very big eye. But still.
I want to be here for those 67 years. Really here.
I want to BE here when I'm making art, and I want to BE here when I'm reading smut.
I want to BE here on those precious, mark-your-calendar days when I get to snuggle with my mom.
I want to BE here when I'm watching idiotic TV shows with my boyfriend, hitting 'mute' to silence the commercials, as we make up our own voiceovers.
I want to BE here when I'm 30,000 feet in the air, hurtling through the heavens in a cylinder of steel.
With pretzels.
I want to BE here when I cash my checks. Pay my bills. Delete my spam. Cross-check the dates.
I want to BE here when I'm jealous. When I'm horrified. When I'm terrified. And when I'm mesmerized.
I want to BE here when I'm drinking red wine and black coffee.
And I want to BE here when I'm spilling them on my laptop. As I undoubtedly will.
I hope you'll be here, too.
And now, a brief word from our sponSOAR . . .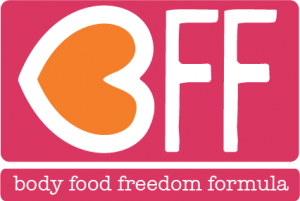 When Shelley Chapman was a personal chef, she noticed something interesting. More often than not, her clients' relationships with food mirrored their relationships with life. No news flash, there.
But Shelley wasn't satisfied with just feeding her clients . . . she wanted to guide them into full-on emotional freedom.
So she swirled together her studies at Spelman College & Harvard University, synced up her work in psychology, anthropology & gourmet foodery, and started helping women break the cycle of emotional eating.
With pleasure.
(Don't you just want to hug her, already?)
Shelley's latest offering is The Body Food Freedom Formula™ — a digital guide to losing weight & gaining your life, by being your body's best friend.
The BFF Formula™ is not a diet. It's not a meal plan. It's not a gimmick-of-the-month. It's a loving, well-researched and (gasp!) creative & FUN exploration of your body stories, your memories & beliefs about food, and your relationship with f-r-e-e-d-o-m . . . the kind that has nothing to do with your size.
And starting today (!) you can grab a free chapter from The BFF Formula™, right over here. Registration begins on June 18th. Mark your calendar — and bookmark the site.
Bravo to you, and your inner BFF too.