"OMG, that pedicure like, CHANGED MY LIFE."
"These bacon-wrapped dates are CHANGING MY LIFE."
"Have you heard of the band Cuddle Magic? CHANGED MY LIFE."
Yes. I know. I frivolously fling the phrase "CHANGED MY LIFE" around, as if nail polish & gourmet snacks & indie rock music actually have the capacity to alter my personal destiny in some fundamental way. I'm quite aware that I'm ridiculous. And I'm also vividly, even cynically aware that our lives are rarely, like, changed. By anything. Or anyone. Not dramatically, anyway.
So when something — or someone — really DOES change your life, it's worth noting.
And celebrating.
Danielle LaPorte — bestselling author, spiritual hotshot, business strategist extraordinaire, friend, mentor & former client — actually changed my life, livelihood & legacy. To the core. No metaphor.
Danielle believed in me — and hired me — back when I was thoroughly wet behind the ears.
: She taught me the ins & outs of rocking the online 'verse & writing (mo' better) language, that sells.
: She drilled the ultimate secret to success into my heart & soul: 'do what you say you're going to do'.
: She gave me a backstage tour of her empire — from social media strategy, to guest-posting & visibility, to a bonafide meeting with her NYC publishing team.
: She handed me her goddamn WordPress log-in details (the ultimate display of trust & respect.)
Under her Canadian wings of glory, I found my footing.
I'm grateful. Forever & a day.
And TODAY, Danielle's new book — The Fire Starter Sessions — hits the shelves. (duh, buy it, obviously, sheesh. And if you order this week, you get fancy treats.)
In honor of Danielle's new book, I'd intended to post a video heralding my love & appreciation. So I recorded one. Slightly drunk. And very weepy. Then I recorded another one. Sober. With bad lighting. T'was not meant to be.
So instead, I wrote a very fast, very bad poem. Because poetry is kinda like pizza — even when it's sloppy, sweaty & awful, it's still gooood.
Without further ado . . .
An Ode to LaPorte
"Enthusiasm means
to be possessed by a God."
She says
Husky-low & slow
And everyone falls over
flips, keels
Stilettos to the sky
Say no more.
We're all Gods now.
Midnight oil
Manic prose
And un-cool delight.
She taught me
that astrologists
know when to launch –
And that lipgloss
is a form of
divine preparation.
No pristine balance
Just pure devotion
And somehow
fame & fortune
swing into motion.
She writes
and thousands lean in
She speaks
and we awaken, in unison
She believes
that you're bigger
than BIG
and hotter
than HOT
and you fill the sky
with your rising fire
Big hair. Gold pants.
Gliding away from the clamoring fans
Sitting with me (!)
Like I'm some kinda star
That's how I will always
remember Danielle.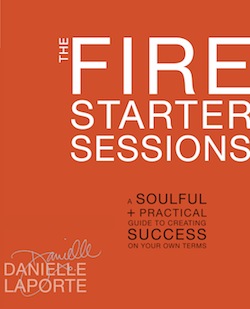 Go buy The Fire Starter Sessions for yourself,
and everyone you love.
Go find your own defiantly individualistic variety of White Hot Truth.
Go be a life-changer.
Love you, D. Crazy cosmic hugs from Minneapolis.
xo.