When you're laser-lucid CLEAR on WHO you are & WHY you're extraordinary, life gets a whoooole lot more fun.
Jobs come a-calling.
The media comes a-knocking.
Opportunities gracefully sink into your lap.
Clients genuflect on your doorstep.
True clarity is dazzlingly rare . . . and completely mesmerizing.
When you've got it, you get what you want.
And a few things you never knew you wanted.
But do now.
And how.
True story: I came into some major-laser clarity recently, when (during an inverted yoga pose, you know how it goes) I realized that a HUGE part of my work on the planet is to help people get vibrantly clear on what makes them (beyond) valuable . . . and (finally!) find the words to sing it, sell it, and swirl it all around.
MAGNETIC CLARITY. That's my magic. And my gift. So I made a wee-book about it.
3 Questions To Get MAGNETIC CLARITY
. . . on your (real) expertise, your signature dance moves, and the results you can undeniably promise.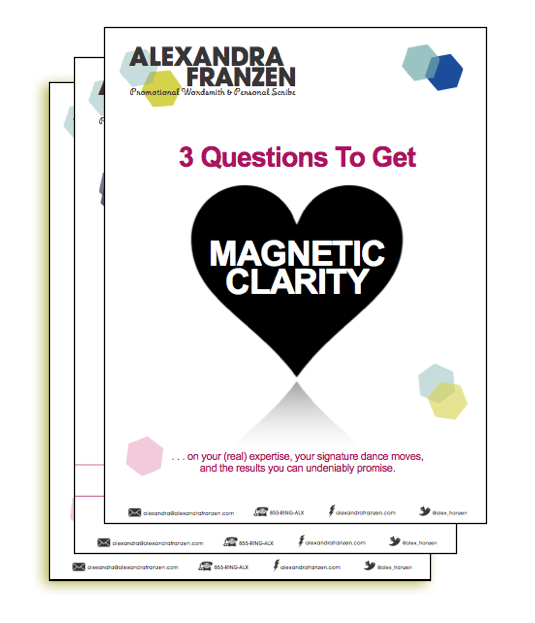 It's all sparkly & luxey hot. Like a sun-baked disco ball.
And it's my insta-gift to you — when you jump on my mailing list.
(Already on my list? MAGNETIC CLARITY is already in your inbox. Boom shaka laka.)
Go get CLEAR.
And report back to basecamp.
I lust for your self-illumination.