It was January 28, 2010. 8pm. Central, that is. A thirty-minute conversation that changed . . . well, everything.
Cue the dramatic Taiko drumroll.
It was my very first chat with my very first coach. None other than Ms. Michelle Ward, of course.
I consider that conversation to be the birth of my entrepreneurial identity — an early glimpse at a luminous world of passionate, polished, profit-driven 'preneurs rocking the web & ricocheting their skills from studios in Brooklyn to the shores of Bermuda.
A world I never knew existed (this so wasn't posted in my college career center!)
A world that gleamed with possibility, purpose & the promise of creative fulfillment.
A world that now — 732 days later — I live, work & belong in.
Lots of people ask me how I've "done" what I've "done" in "so little time." Meaning: how I built a profitable business anchored on my writing skills, story-channeling abilities & promotional intuition . . . during the depths of the Recession, no less.
The answer isn't very glamorous. But it's genuine.
Quite simply: I didn't give myself any other option, but to succeed. And I redefined my definition of success, whenever I felt the pinch of burn-out or boredom. In doing so, I met myself in the center. And the center traveled forward.
All my woo-woo brethren are like, "I'll namaste to THAT!"
And all my anti-woo peeps are like, "uhh…digestible bullet-points, puh-lease?"
You got it, guys & gals. I give you . . .

7 business truths I wish I'd been brave enough to believe, 732 days ago.

Side-note :: I eventually DID come to believe each of the following truths, along the wild & winding road. But if I'd known & believed them at the BEGINNING of my entrepreneurial journey? We'd be living in the United States of Franzen, by now.
1 :: Proceed like you're already PLATINUM.
To borrow a potent question from everyone's favorite Jersey Girl-made-good, "If you were the BEST in the world at what you do, how would you BEHAVE?" Behave like that, from day one. And pretty soon, the BEST is precisely what you'll be.
2 :: But . . . fall in love with your worst-case scenario.
I got up close & personal with my worst-case scenario – working in a dive bar for peanuts, and snacking on government-subsidized cheese — and realized that if everything imploded like a dying star, I'd still be fine. I'd still be loveable. I'd still be charming. I'd still be me. Rock-bottom failure = more fodder for the memoir!
3 :: Get your finances aligned by a pro, from the get-go.
Admission: I thought I could wrangle my own finances, forever. I mean, that's why the Goddess of Prosperity invented Turbo Tax, riiight? Do yourself a glorious favor: spend $50 on a consultation with a professional number-cruncher, and get cleaned up & confident. You'll sleep better — and keep more of what you earn.
4 :: Remember WHY you're here. And WHAT you want.
Write it big. Blow it up. Frame it. French kiss it. Silkscreen it on your t-shirts. Tattoo it on your forearms. Do whatever you need to do to keep your driving purpose front and center, at all times. The locked-in perspective will keep you focused . . . and sane.
5 :: Put your cheerleaders on speed dial.
Your mom. Your auntie. Your mentor. Your partner. Keep them clued in, and close. But don't use them as human Kleenex boxes — call them when you're in celebration-mode, not just when you're in crisis-mode. They want — and need — to know that you're making progress. That they don't need to start up a charity collection for your survival. Unless, like, they do. And that's OK, too.
6 :: Get a just-for-the-joy-of-it hobby.
Hobbies keep you fluid, playful & expansive. Which is exactly how you'll want your brain to be wired . . . if you want to receive your next brilliant business idea.
7 :: Live 100 years in the future.
It's the most critical question you can — and must — ask yourself, with each new client, opportunity, invitation & growth spurt: "100 years from today . . . will it matter?" Or, if that's too heady, start with this: "1 year from today . . . will it matter?" Will it leave a lasting legacy? Will it continue to elevate lives? Will it enhance your visibility, the breadth of your voice, your income, your influence? Is it vitally important? Or does it just 'feel' urgent?
Every time you make a decision from a place of long-term legacy-thinking rather than short-term survival, an angel gets its wings. And your business grows up. Beautiful — and brave.
And now, a brief word from our sponSOAR . . .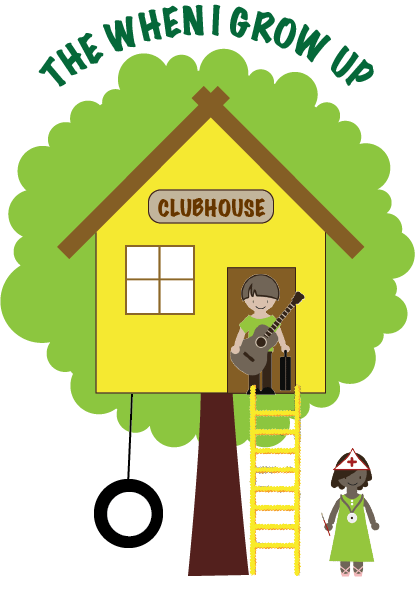 Remember that marvel of a woman I mentioned at the tippity-top of this post? The woman who popped my entrepreneurial cherry, back in the day? The woman who tolerates filthy insinuations, like the one I just made — with charisma, charm, and career-charting prowess?
She's got an offer you can't refuse. Lean in . . .
Michelle Ward — aka, the When I Grow Up Coach — is a sought-after & seriously powerful life & business coach, who is perpetually coming up with savvy new ways to serve her ever-growing audience. Enter: THE CLUBHOUSE. It's a get-yer-coach-on membership site, with virtual workshops, open coaching calls, a Facebook community, inspiring giveaways, and access to every product Michelle's ever made — and will ever create, in future.
Your CLUBHOUSE membership starts at just $27 / month. And is, to quote the loquacious Ms. Ward, truly "AMAZEBALLS."
Chip-chop & clip-clop over to THE CLUBHOUSE page, watch Michelle strum her pink ukelele, pour over the ultra-affordable membership levels, and leap in.
Your business will LOVE you for it.