Oh, the early days of entrepreneurship.
You've got the website.
You've got the verve.
You've got the vigor.
You KNOW you're good.
And good lord, you've got bills to pay.
I've been there. Forgive the cliche, but we've all been there. Yep, even your famous-on-the-Internet idol, with gazillions of Twitter followers and a seemingly endless torrent of attention, opportunities, and good fortune. He started at square one, too.
So, what's the first stride, when you're juuuuust starting out, and need to line up a full docket of clients before the poverty death knell strikes — or worse, you lose momentum (and faith in your skills)?
There's no easy answer. But here are three fast-moving techniques you can employ, to your grand advantage.
Just add love, prayers & crystals. I recommend Fluorite.

1. Start with people who ALREADY love you.
Launching a coaching practice? Revving up your web design biz? Newly-certified doula? I Guarantee (yep, sleazy-salesman style, capital G) that there are at LEAST ten people in your immediate orbit who need what you've got. Or know someone who does.
You could send out a general "hey y'all, check out my new business + hire me pleeease" email to everyone in your Gmail database. Sure. Why not. (Personally, I tend to delete those kinds of messages. While sending good vibes. Of course.)
Better still… craft a series of personal (read: specific & HUMAN) messages for a hand-plucked group of people. Aim for 30 of your dearest friends & family members, former employers & teachers, social media buddies, and biggest-fan-for-life supporters. Tell them what you're up to. Tell them how flipping excited you are to bring this new facet of yourself into the world. Tell them to spread the word. And tell them you're grateful.

2. Partner up with a powerhouse.
Joint-ventures for the WIN!
It's one of the most obvious — and overlooked — ways to make your pool of potential clients go ba-boom. Partner with someone (or, some… thing) who's audience is bigger than yours, in a way that's mutually beneficial… and pull all the fresh eyeballs right back to your biz.
Your JV might be as simple as a guest-post or interview feature on an established blogger's site — with a strong call-to-action & link back to yours — or as hefty as a recurring guest teacher role, on someone's else's 12-week teleseminar.
And lest we forget — joint-venture magic can happen OFFline, as well. Wanna teach a course on tantric meditation? Bet your local yoga studio would love to host your class — and blast an announcement out to their list — in exchange for a share of each ticket sold. Community colleges, writing studios, co-working spaces, retreat centers — nearly all of 'em welcome guest voices with ooh-la-la ideas to share. And don't underestimate the exposure (and credibility) your alliance can bring.

3. Give it, give it, give it.
When you're just starting out, pride & mastery-level training & student loans be damned — you're an unknown variable. You've got no 'street cred' (yet). And folks are understandably wary about investing their hard-earned cash in your as-yet unproven skills.
So give it away. For free. For a predetermined & precise amount of time. Think of it as a crucial incubation & guinea-pig phase, to gather reactions, reviews & testimonials, build your confidence, and generate some early-buzz about your work.
You could:
:: Create a scholarship contest to give away chunks of your time… then funnel your non-winners into a reduced-rate group workshop, like smarty-smart Michelle Ward did, this year.
:: Offer some free brain-time to a high-profile organization or person — in exchange for permission to use the resulting work in your portfolio.
:: Host a meet-up, organize a TEDx event, throw dinner party, salon, soirée, or lead free introductory class at your alma mater.
:: Extend a Pay-What-You-Can offer to your peeps, for a limited time.
:: Do a free-giveaway-bonanza on somebody else's site (or, even better, a series of sites)
:: Make your free-wheeling generosity a big. fucking. deal. Announce that you're doing 100 free coaching sessions / Tarot card readings / design pieces / taglines, because you start charging top dollar. (translation: "So get in line quick, before this ship hits the wide blue yonder.")

Now you know what to do.
But how do you SAY it?
In a mad whirlwind of inspiration early this morning, I crafted a beautiful, bouncing baby-product. Introducing…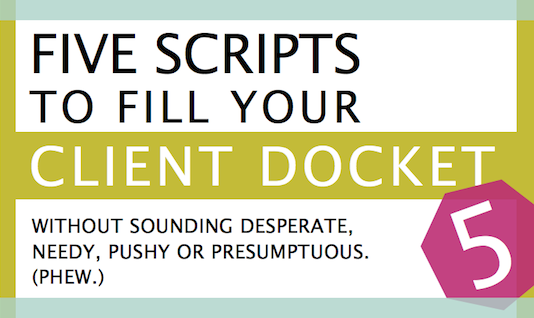 Inside this bundle o' joy, you'll find scripts designed to:
:: Pitch yourself as a potential guest-blogger
:: Announce your new business identity to people who love you
:: Gift some pro-bono time to a company you dig
:: Propose a mutually-delicious joint-venture collaboration
:: Ask current clients to pump referrals your way
This parcel of punchy language — which, I daresay, could color your communication with the persuasive, confident tone that changes everything — is priced at $15. I reckon that's what you'd call, "a steal." Mm-hm?
Hit the button to own the goods.
(You'll get a cheery missive — with a download link — in 'bout 5 minutes flat.)