I remember how THRILLED I was when my 9-to-5 boss offered me a 5% raise, after my first year in his department.
I'd created a new system to write & record on-air promotional messages, drafted technical manuals that actually made sense, launched a workshop to get teenage girls excited about broadcasting technology — and I'd done it all in mustard-yellow tights and faux-cowskin pumps. That brought my hourly rate to… just a hair over 17 bucks.
Oh, I was KILLING it. Winning at life! An extra shot of English toffee in my soy latte, if you please. Make that a double.
The day I quit my j-o-b, I decided my freelance writing rate would be somewhere in the realm of $25 bucks an hour. That quickly jumped to $35. Then $40. Then $45. Then a beloved client informed me that she was boosting my hourly to $55, just 'cause. Well, if you insist…
125+ clients — and hundreds upon hundreds of bios, manifestos, taglines, vision statements, sales pages, homepages, splash pages, upsells, cross-sells, pitch letters and promotional pow-wows later — I was playing in a different power-league. But my rates hadn't quite caught up.
The day I set my day-rate at $1000, I cried. With relief. With gratitude. And, uh, with terror.
I heard RuPaul's voice echoing in my head,
"Oh girl, how DARE she!"
How DARE I, indeed.
Because…I'm worth it? Meh. Sure. So are other (cheaper) folks.
Because…I'm booked 3 months in advance? Maybe. Getting closer.
Because…I'm offering a ferociously swift wordsmithing service that no one else in the world can provide, in precisely the way that I swing it? Possibly. Better.
Because…having persuasive, memorable & inspiring language to describe your life's work is worth thousands upon thousands of dollars, in business acceleration & personal clarity? Uh-huh. Sooo close.
Because…when my clients invest $1000 to spend a day with me, we both show up FULLY — and the result is a creative glitterbomb that's bigger & more meaningful that either one of us could imagine? BINGO.
Now, I'm not suggesting that people inherently have to pay major bucks to revel in the positive side-effects of deep commitment.
But something fascinating happens when you charge "how DARE you!" rates for your time…
You raise the brilliance barometer — for yourself.
You RISE to your own self-declared pricetag.
You make DAMN sure that you're worth it — that you're giving everything you've got, every time.
And your clients LEVITATE to meet you, there.
To put it down sharply…
How DARE you command breathtaking rates for your time?
For your book learnin', street learnin' & synthesized wisdom? For your DNA-inscribed gifts? For the opportunity to experience the apex of your capacity to serve, to inspire, to create, to transform — lives, businesses, communities, societies, the planet? For the skills that people are literally falling in line to get a dose of? For your LIFE's WORK?
How DARE you…not.
And now, a brief word from our sponSOAR . . .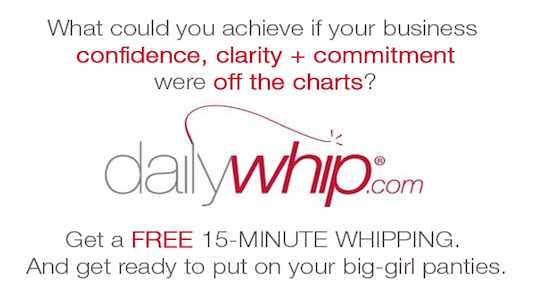 Today's post is generously sponSOARED by Erika Lyremark of The Daily Whip — a brrrazen life + business coach who convinced me to raise my rates multiple times (including, on one occasion, over the phone in a strip mall parking lot, as a bleary-eyed gentleman rapped on my car window & foisted a full pound of marijuana in my face. (I declined his generous offer.)
Erika's next group-bonanza coaching program — The Morning Whip — kicks off bright & early on November 20th…and if you're looking for hardcore confidence, clarity & commitment to your unfolding business, you should bare your bottom (metaphorically, of course) for Erika's signature Whippings.
Feeling timid? You can get yourself a private 15-minute Whipping with Ms. Lyremark, as a free teaser to the Morning Whip program…right here. Take it like a lady, OK?