"If the doctor told me I had six minutes to live,
I'd type a little faster."
–Isaac Asimov
Want to write a book? (Seriously. Who doesn't?)
If you're like me, you dream of seeing your words in print. In a book. On the shelf.
With your name, inscribed in some kind of gleaming metallic ink, beaming from the cover.
God, can't you just feel it?
Don't you want it to be… real?
Danielle LaPorte & Linda Sivertsen — two publishing industry luminaries, with over a dozen published titles between them — know exactly how it feels to yearn for your first book deal. For that precious, life-changing vote of confidence that changes everything. And they've created a mammoth program — YOUR BIG BEAUTIFUL BOOK PLAN — to turn your inky aspirations into a publishing success story.
Introducing…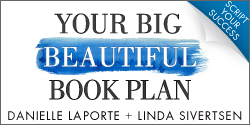 This motherload of all book-writing manuals clocks in at nearly 400 pages of sagacious how-to's & rah-rah inspiration, plus 8 hours of video & audio, with snapshots from actual book proposals that landed six-figure deals, soared to the top of bestseller lists, and touched thousands of lives. Gems from 20+ leading-edge authors, so graciously shared.
It's much more than a guidebook for crafting a proposal that'll catch a literary agent's attention — it's a rallying cry for why it's essential to get your word into the world, and how to reach that glorious finish line — a finished BOOK! — in this lifetime.
I had the privilege of being part of the production team for this program, and had a behind-the-scenes perspective on the whole creation process. The speed with which this hurricane of how-to's came together (2 months & 14 days) and the graciousness & devotion of everyone involved (including graphic designer Mara Lubell, VA extraordinaire Angie Wheeler, transcription tag-teamers Cassie Oswald & Hillary Weiss, everyone's favorite geekstar, Paul Jarvis, and our fearless leaders, Danielle & Linda) got me more than a little verklempt. (That's Yiddish for "tongue-tied & misty-eyed," by the way.)
Team Beautiful made sacrifices, in the name of (your) literary prowess & publishing success. Family holidays were curtailed. The emotional & creative equivalent of all-nighters were pulled, for weeks in a row. Midnight-oil editing rounds were carried out, with finesse. I even roped my boyfriend into the mayhem, for some finicky audio editing (and back massages, which I have yet to properly reciprocate). This was a labor of love. And when you crack open the program — which launches TODAY! — you're gonna feel the love.
I could not be prouder of the sealed & delivered product. Massive value. Beautifully presented.
In modules that will turn bookish dabblers into driven, devoted publishing machines.
Get (with) the program. And write. Now.