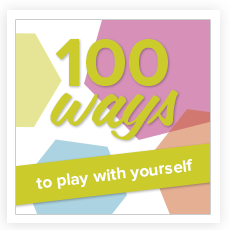 The title says it all — this wee-book is a collection of 100 ways to infuse your life with creativity, cheeky humor + a spirit of profound curiosity.

You'll find prompts + challenges to shake up your communication, self-presentation, physicality + sensuality, down-time, meal-time, friend-time, and more.
Includes Playdates with inspiring artists, coaches, chefs + entrepreneurs —
 plus: a parcel of print + play worksheets.
Reality never looked so damn playful.
And! $5 from every purchase goes to Women's Earth Alliance — a righteous non-profit that supports women working on the front lines of social and environmental challenges. YAH!


"One can't help but feel energized by Alexandra's dazzling creativity. But here at Women's Earth Alliance, we're most inspired by her generosity. By donating a portion of the sale of each wee-book to WEA, Alex generates abundance for everybody: you get amazing tools for joy + play, WEA gets funds that we leverage with our global network of partners + grassroots leaders, on the path to finding environmental solutions. We all win!"
–The Women's Earth Alliance Team (one of The Huffington Post's Top 50 Non-Profits to Support)

What's inside?

Here's the complete Table of Contents:

Play with your WORDS
Creative prompts + prods for aspiring wordsmiths — or, y'know, anyone who likes to communicate with other humans.
PLAYDATE! Meet: Licensed Play Therapist Stephanie Holloway
WORKSHEET! Your Power Word Of The Year

Play with your BODY
Saucy, racy, sweaty suggestions to help you re-connect with your innate physicality.
PLAYDATE! Meet: Liberation Artist Ev'Yan Whitney
WORKSHEET! 7 Days of Moxie + Movement

Play with your MIND
Brain-teasers, what-iffery, and neuro-linguistic finagling to flip your perception.
PLAYDATE! Meet: Grief Counselor Christina Rasmussen
WORKSHEET! A Day Without Lying

Play with your FOOD
Luxurious invitations to eat cleaner + live sweeter — one plate at a time.
PLAYDATE! Meet: Barefoot Chef Amanda Love
WORKSHEET! One Perfect Meal

Play with your REALITY
A gargantuan glitterbomb of playful suggestions to spike your curiosity, spark your creativity, lighten your heart, loosen your rules + sizzle-fy your whole reality.
PLAYDATE! Meet: Energy Alchemist + Poet Hiro Boga
WORKSHEET! Throw A Rave Inside Your Brain

Gratitude Galore
Dude. You have no idea.

Praise for my wee-books + products…
"100 Ways To Play With Yourself crackles with neon energy and laser-sharp wit. I gobbled it up in one sitting and FELT my neurons firing with renewed vigor."
—Otiti Jasmine, Creator of Radiant Soul Space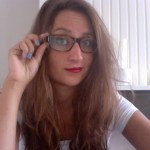 "Alex Franzen is brilliant with words. In an Alice in Wonderland kind of way. She comes up with the best stuff, thinking up supercool phrases so you end up with the most vibrant and crazy reading. Everything she writes is like being over at an Inspirational Mad Hatter's Tea Party. 100 Ways To Play With Yourself is one of those e-books I come back to every once in a while to refresh and pick up a trick to try for that day or that week. The writing is fun and quirky."
—Lianne, The Self Help Hipster
"How To Describe The Indescribable is phenomenal! You're keeping me up past bed time! Thank you, lady."
–Tara Bliss, Such Different Skies

"I am simply head over heels for How to Describe the Indescribable.
Firstly: LOVE the audio. Alexandra has the smoothest, most gorgeous voice as she weaves her listeners through the maze of better writing practices.
Just the Haiku tactic alone was worth more than the entire cost of this wee offering (don't let the 'wee' fool you!) I'm planning on using that tactic in my emails from now on! And I can't wait to put the 'Create a Character' idea into action in my future offerings. SO smart.
Lots of great stuff jam-packed into one solid work that is, frankly, mind blowing!"
—Tanya McGill Freeman, Social Media Strategist + Founder of Digital Sophisticate

"For some odd reason whenever I have to pitch an idea, a proposal or anything 'salesy' I become extremely tongue-tied. My mind goes blank and I struggle to get the pen to the paper.
Thank goodness Alex Franzen created FIVE SCRIPTS TO FILL YOUR CLIENT DOCKET — I finally have a template for cool-sounding scripts that I can doctor as I please (or use verbatim!) whenever I need to contact someone, but don't want to sound needy (or like a 'dry' boring professional).
These templates are clearly worded calls-to-action — yet still fun and fresh. This makes my life SO easy. Thanks, Alex!"
—Theresa Reed, The Tarot Lady

"The art of the ask is a tricksy bit, yeah?
It's such a critical part of making connections and growing your gorgeousness and doing your thing. But I'm always kind of surprised at how often people totally miss the mark on a clear and kapow-ey ask.
But I get it. I've been on both ends of asks that are fuzzy and full of meh. It's hard stuff. Wouldn't it be amazeballs if there was actually an instruction manual for this stuff?
Oh, wait. There is. The fabulous Mizz Franzen has faced down five of the most common client-related situations and served up full-frontal awesomesauce on how to craft a supercharged ask that makes shit happen.
Brilliant. Practical. Sorely needed. And worth way more than the asking price.
Snag it, sweat pea. Then go forth and set the world on fire."
—Fabeku Fatunmise, Business Awesomizer | Suck Exorcist | Sound Alchemist

"Alex, your words are refined, glittery gold and to have you share this magical treasure trove of wordsmithery with me feels like I've been given a large inheritance from a beloved fairy godmother. Seriously, this is good. I'm going to tuck these scripts away in the secret keepsake box that is my hard drive."
—Ev`Yan Whitney, Female Liberation Artist | Creator of Sex Love Liberation

"This is coming from a fellow copywriter, so it should be extra sweet for you. I swear, girly. This is where I get stuck … writing this stuff for myself. But you? You made it siiiiiiinnnnnnnngggg. High notes and swoops. I love it."
—Kat Jaibur, Writer + Coach

"My beautiful site had just launched, the phones were ringing off the hook, it was now time to … network! The very idea made me break out in red splotches and get itchy. I know what I do rocks — but how do I convey that to everyone else? How do I write the bloggers and virtual powerhouses that I adore without sounding like a crazy fangirl who also wants a favor? In other words — how do I talk about myself in a compelling way to some of the folks and businesses I most respect? In a way that is going to benefit my own business?
Enter the clarion brilliance of Alexandra Franzen — for $15 she offers a bouquet of sharp, witty, engaging, and compelling scripts, that may be used verbatim or edited with your special touch, to help you rock the inbox of your idols (and score a guest blogging spot), announce your new launches, grab juicy client referrals, give your services in a way that matters and is mutually beneficial, and most importantly of all — collaborate with people you love and people you want to know.
For new businesses or for established businesses that just got nip+tucked and want to show their sassy new selves off, this package is simply essential and the value is AMAZING. Seriously, I would pay several times over for this little pot o'gold!"
—Bri Saussy, Spiritual Counselor | Root Magic Ritualist | Self-Inquiry Sorceress
"You know, you could write about belly button lint and I would read it, knowing it would be great … but these scripts are ah-may-zing, fresh and rockin.' Thank you! (And I will buy the belly button lint scripts when they are released, too … happy to pre-order now, in fact!)"
—Shannon Jackson Arnold, Writer | Teacher | Resourceful Guide for Creative Souls

"Alex has managed to get inside my head and write the hard letters that I've been avoiding, quite simply because in my head they are needy and disastrously dull. Thanks to Alex, I am now equipped with energized and concise scripts that no one will be able to say no to."
—Erin Giles, Business Coach | Founder of End Sex Trafficking Day

"There are SO many ways you can apply each script. Felt like a kid in a candy store!"
—Michelle Currie | Founder, Meditative Arts
"Oh My Goodness!! Makes me think — why do we get so hung up asking for the goods about us and our work? This fixes that in a snap.
FIVE SCRIPTS TO RAKE IN THE PRAISE literally takes all the squirminess right out of asking for that positive feedback that we know is out there. Fun, fast, practical action for immediate impact.
You found a weak spot for many us and filled it ever so nicely!"
—Shelby Edwards | Emergency Management Response Consultant